Why PrimeXBT copy trading is the hottest trading tool this summer
After a prolonged period of market downturn, often referred to as "crypto winter," the cryptocurrency market is finally showing signs of a recovery.
First, Bitcoin led the way higher, bringing the return of hope to the crypto market. Now, with Ripple winning the court case against the SEC and a US judge stating XRP is not a security, even altcoins are participating in the revival.
With summer here and a possible return to a bull market in crypto, it is time to find out why PrimeXBT copy trading is the hottest trading tool you can use this season –– and how you can take advantage of the blossoming trend.
Recapping the fall, crypto winter, spring, and a scorching hot summer
Much like the seasons change every several months, markets are cyclical and go through similar phases of growth and decay. The seasons are appropriately named to represent the cryptocurrency market.
After all the heat runs out of a bull run, crypto prices begin to fall. Similar to how the wind shakes leaves from their trees, these falls in Bitcoin, Ethereum, and others will shake investors out of their positions.
Falling off the tree is favorable compared to what comes next: the deep freeze of crypto winter. During this phase, crypto and other assets are declared dead, growth disappears, and interest turns cold.
And while fearful investors are left shivering, they often fail to realize that spring has sprung, and the subtle changes suggesting growth will soon return begin to appear. Then the heat of crypto summer comes on strong and fast, getting hotter than they are able to get a handle on.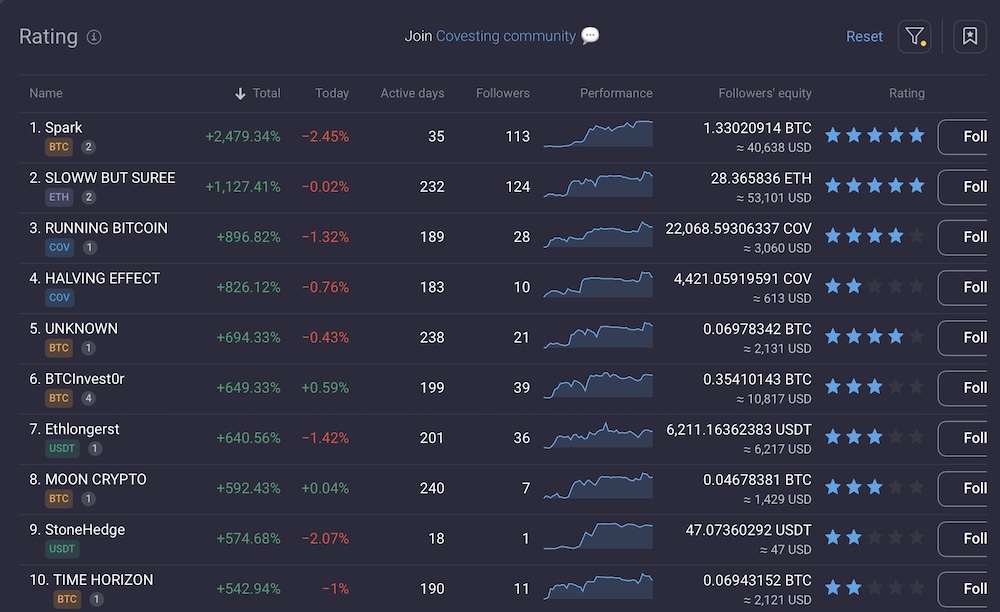 Don't get caught up in the cycle; copy the best traders
If you've fallen into the cyclical trap laid out above, PrimeXBT copy trading could be the answer. Furthermore, as we'll explain later, it is one of the only ways to get exposed to crypto this summer without being tethered to a trading desk.
PrimeXBT copy trading is a community filled with followers and experienced traders called strategy managers. With just a click, users can follow other strategy managers and generate a return on investment each time the strategy manager makes a successful trade.
To this point, PrimeXBT copy trading provides a transparent leaderboard system that ranks each trader and provides insights into trading metrics such as risk, win ratio, margin allocation, and overall performance. Users can view this information to figure out which strategy managers to allocate capital to.
Top active traders in the leaderboards currently boast as much as 2,479% ROI, while some of the best ever strategy managers on the platform's Wall of Fame have clocked in more than 100,000% ROI for their followers.
Get exposed to crypto summer without disrupting yours
From there, if you've done your due diligence, there is no more heavy lifting. Simply sit back, enjoy the summer, and let strategy managers make you money while you travel, relax, vacation, and more. Followers get stop loss and take profit tools for additional risk management.
The entire experience can even be managed remotely while on the go using the PrimeXBT mobile app. Copy trading has been built right into the app, along with other desktop features such as crypto futures trading, CFDs on traditional assets, trading contests, and much more.
The app also lets users make deposits or withdrawals while out and about, buy crypto, or exchange one cryptocurrency for another. Using all of these innovative tools, you can focus on getting the most out of your summer and out of global financial markets.
Don't miss out on the crypto summer that's just now starting to sizzle because you're on vacation or uncertain about the market. Let other, more experienced traders at PrimeXBT copy trading do the hard work while you enjoy the summer heat.