Trader Issues Bitcoin Alert, Says 'Difficult To Believe' but One Catalyst Could Send BTC Crashing to $15,000
Crypto analyst Justin Bennett is issuing a warning on Bitcoin (BTC) as the flagship crypto asset making double-digit gains over the past week.
Bennett tells his 110,800 followers on the social media platform X that Bitcoin could correct by 54% from the current level based on the historical correlation between BTC and stocks.
According to the crypto trader, a steep stock market correction could trigger a Bitcoin collapse, similar to what happened in February and March of 2020 when the S&P 500 stock index plunged by 25%. During that period, Bitcoin fell by around 50% from about $10,500 to about $3,782.
"For the record, I still think BTC sweeps the $25,000 lows and possibly the $15,000 lows.
Difficult to believe until you look at equities, namely S&P 500 index and that 3,255 area.
How would a 23% correction from the S&P affect Bitcoin?
Impossible to know for sure but we know what happened during the last 25% correction.
Let's see."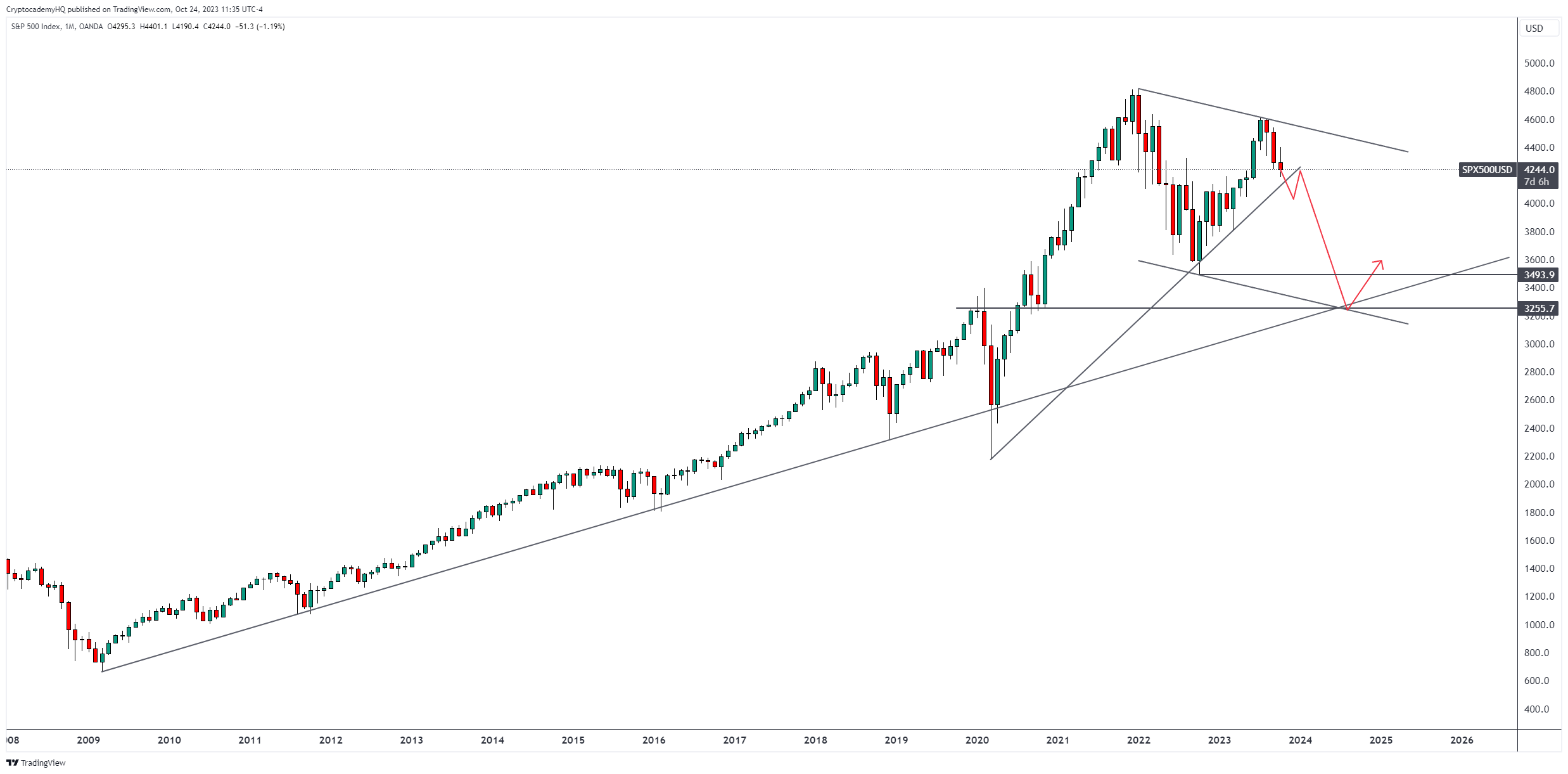 Bennett foresees the S&P 500 index falling to around 3,255 points, a support level that was a resistance level in 2020 before converting to a support level in 2021. The 3,255 level also aligns with the index's long-term ascending trend line, based on Bennett's chart.
Bitcoin is trading at $34,050 at time of writing, while the S&P 500 index is at around 4,170 points.
The crypto trader also says that despite Bitcoin demonstrating "exceptional strength against equities" this month, the divergence is not permanent as "correlations ebb and flow just like markets."
"If equities puke here, it's only a matter of time before crypto follows."
Generated Image: DALLE-3