Stellar Price Prediction as XLM Blasts Up 30% in 7 Days – Can XLM Reach $1?
The Stellar price has dipped by 0.5% in the past 24 hours, yet its current level of $0.128569 represents an impressive 30% gain in the last 30 days.
As a cryptocurrency that also targets cross-border payments, XLM has benefitted from Ripple's success in its case with the SEC, with the altcoin joining XRP in the past few days to decisively outperform the wider market.
And given that XLM's fundamentals remain largely sound, it could easily continue to see sustained rises throughout the rest of the year, with the altcoin potentially on track to near $1 in 2024.
Stellar Price Prediction as XLM Blasts Up 30% in 7 Days – Can XLM Reach $1?
Stellar's chart looks very much like XRP's chart at the moment, with the altcoin enjoying a big surge on Thursday, when Ripple's positive decision arrived.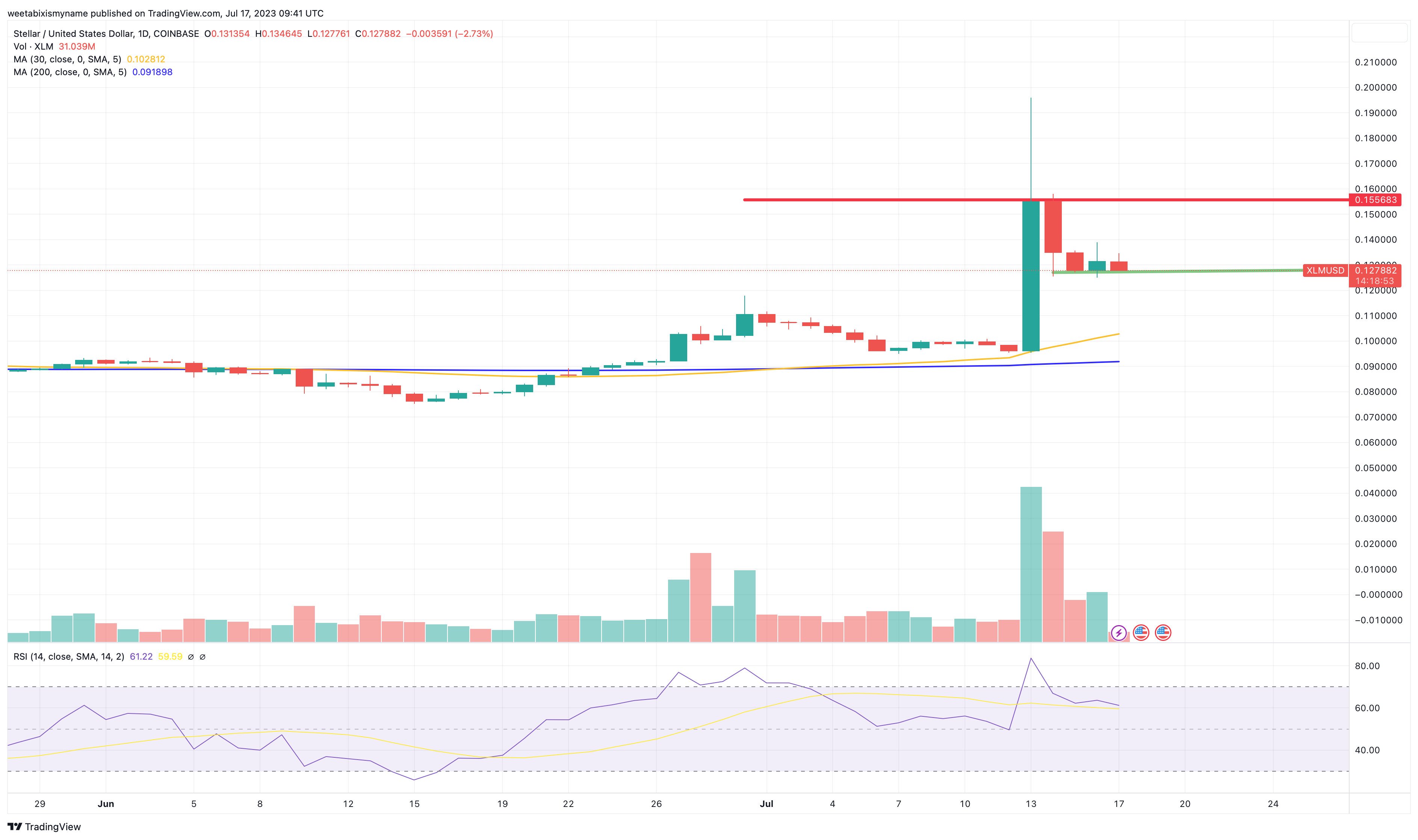 While its momentum isn't quite as strong as XRP's, it's not too far off, with XLM's relative strength index (purple) remaining above 60 and potentially signalling ongoing momentum.
This is reinforced by the altcoin's 30-day moving average (yellow), which has recently overtaken its 200-day average (blue) and has plenty of space to continue rising above the longer term indicator before things run out of steam.
Given its buying momentum, XLM could potentially pass $0.16 in the next few weeks, with the altcoin having a longer term target of $0.2.
One of the main factors supporting XLM's gains is the positivity surrounding Ripple's win last week, with XLM being a cross-border payments asset much like XRP.
Because this case concluded with the judge finding that XRP is not, in itself, a security, a similar view is now likely to be taken with regards to XLM, leaving Stellar free to continue expanding.
At the same time, XLM is also being helped by the progress Stellar itself has made in recent months, with the network still celebrating last week's launch of a personal finance app from WisdomTree, which is backed by massive hedge fund BlackRock.
Because WisdomTree's app runs on the Stellar network, it's likely to encourage increased usage of the latter, something which will boost XLM's price in the long run.
For this reason, XLM should definitely be targeting $1 as long-term goal, with the altcoin potentially capable of reaching this level in 2024.
Other Promising Altcoins
While XLM does look poised to make further gains over the longer term, traders are always advised to diversify their portfolios wherever possible, given the unpredictability of the market.
One good area for diversification at the moment resides with presale tokens, which can potentially rally big once they list on exchanges.
One of these is yPredict.ai, a Polygon-based platform that harnesses AI and advanced algorithms to provide users with various trading intelligence tools.
It launched the presale for its native YPRED token last month, and has impressively raised more than $3 million so far.
Even though it hasn't yet finished its presale, yPredict.ai has already been launch a number of its features over the past couple of months, includings its first predictive AI model.
This will be expanded upon in the next few months as yPredict.ai rolls out additional AI-based prediction tools, including sentiment and transaction analysis, buy/sell signals, aand also its own sophisticated trading terminal.
Such features will be made available through yPredict's own marketplace, enabling developers of models to sell their products directly to traders.
Importantly, the native YPRED token will be used to pay for subscriptions to such models, as well as for staking purposes and for gaining access to the platform's analytics.
Because of this actual utility, YPRED is likely to grow in value in parallel with the growth of yPredict.ai as a platform, something which gives it an edge over many other new altcoins.
Buyers can grab themselves some YPRED early by going to the official yPredict.ai website and connecting their software wallets.
1 YPRED currently costs $0.1, although this will rise to $0.12 by the time the sale ends.
And when the sale ends, YPRED's fundamentals could mean that the altcoin rallies much higher, potentially becoming one of the most successful new coins of the year.
Disclaimer: Crypto is a high-risk asset class. This article is provided for informational purposes and does not constitute investment advice. You could lose all of your capital.