'Smart Whale' Sells 636 Bitcoin (BTC) Worth $23,460,000 As Rumors of US Government Enforcement Actions Swirl
On-chain data shows that one entity sold off over $23.4 million worth of Bitcoin (BTC) today before reports that the US government was launching new enforcement actions against players in the industry.
Spotted by on-chain analytics firm Lookonchain, an unknown Bitcoin address offloaded their entire stack of 636 BTC worth $23.46 million.
On the same day, the U.S. Securities and Exchange Commission (SEC) charged crypto exchange Kraken with operating an unregistered platform and mishandling customer funds, while reports circulated that the Justice Department and Binance are coming to a potential $4 billion settlement.
Says Lookonchain,
"A smart whale dumped all 636 BTC($23.46M) before the US Department of Justice announced major crypto enforcement actions.
This whale made over $40M in BTC by buying low and selling high…
Bought 1,636 BTC ($27.77M) at $16,970 from Nov 30, 2022 to Dec 17, 2022.
Sold 1,636 BTC ($44.28M) at $27,060 on March 8, 2023, making ~$16.5M.
Bought 2,690 BTC ($74.6M) at $27,754 from May 8 to Aug 21.
Sold 2,690 BTC ($98.7M) at $36,726 on Nov 17 and Nov 21, making ~$24M."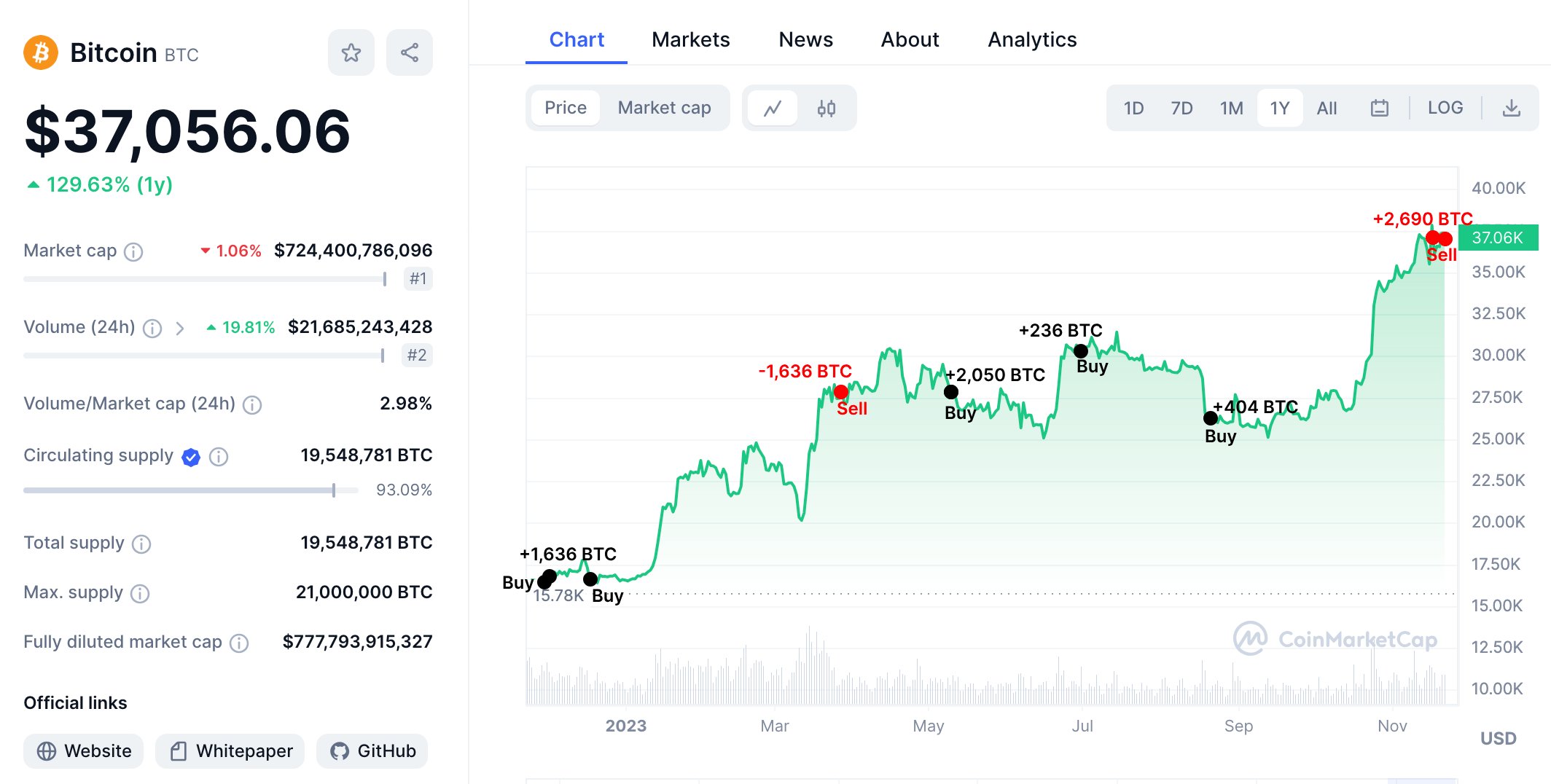 At time of writing, Bitcoin is trading at $37,002, sideways for most of the week.
Yesterday, Lookonchain speculated that institutional investors were in the midst of accumulating LDO, the native token for liquid staking platform Lido. The firm spotted two wallets associated with institutional crypto service companies FalconX and Amber withdrawing LDO tokens from Binance on multiple occasions.
"It seems institutions are accumulating LDO.
0x011D(related to Amber) withdrew 1.47M LDO ($3.6M) from Binance 4 hrs ago, totaling 5.9M LDO ($14.5M) in the past 3 months.
FalconX withdrew 1.26M LDO ($3.1M) from Binance 4 hrs ago, totaling 4.9M LDO ($12M) in the past week."
Generated Image: Midjourney