XRP Price Prediction as Ripple CEO Sees Long Appeal Process for SEC in Lawsuit – Will the Decision be Overturned?
The XRP price has gained by 4% in the past 24 hours, with the coin's move to $0.748896 representing a 60% gain in the last seven days.
This market-trouncing surge follows Ripple's success in its long-running legal battle with the SEC, with the presiding judge issuing a ruling last week which sided with the cryptocurreny firm on a significant number of counts.
However, it's possible that some of XRP's momentum has been undercut a little in the past couple of days by talk of the SEC appealing the case's outcome, something which many experts believe the regulator will do.
But any such appeal is likely to come only after the case has completely ended (after a full trial on the question of the role of Ripple's CEOs in selling XRP to institutions), meaning that XRP may continue its very strong rise over the next few months, if not longer.
XRP Price Prediction as Ripple CEO Sees Long Appeal Process for SEC in Lawsuit – Will the Decision be Overturned?
XRP's momentum remains (unsurprisingly) very strong, yet its indicators suggest that it could still continue rising over the coming days and weeks.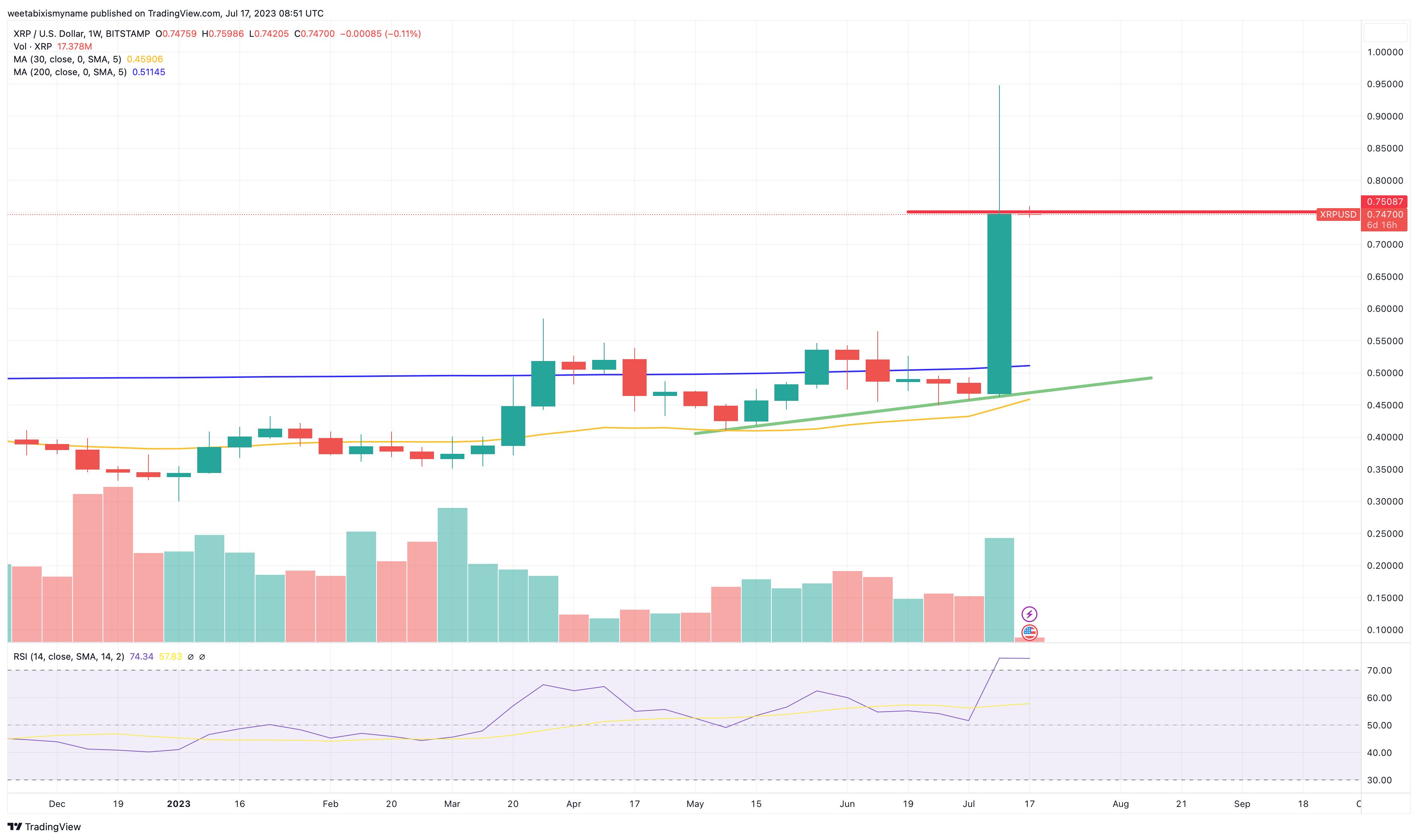 Not only is XRP's relative strength index (purple) hovering above 70, but its 30-day moving average (yellow) has yet to overtake its 200-day average (blue).
This means that the altcoin still has plenty of space left to rise before it becomes overbought and in need of a downwards correction.
Indeed, XRP had arguably been so oversold and undervalued for so long that it requires a sustained rally in order to compensate for two years of neglect.
We had been predicting that the altcoin would potentially rise to $1 in the weeks following a positive decision in Ripple's case, and such a forecast remains entirely credible.
As noted above, some observers have been bothered by the possibility of SEC of appealing aspects of Judge Analisa Torres' decision, including her finding that Riple's programmatic sales of XRP on exchangs did not amount to the offering of unregistered securities.
However, Ripple's Brad Garlinghouse believes the SEC would need to wait one or two years before being able to lodge any appeal, a view he expressed in a recent interview with Bloomberg.
This opinion is supported by a several legal experts, with lawyer Jeremy Hogan predicting that the SEC probably won't appeal, on the basis that it would have more to lose than to gain by doing so.
As such, it would be overly cautious to assume that the SEC could manage to somehow 'overturn' Judge Torres' decision.
For this reason, XRP should be expected to continue its gains in the coming weeks and months, possibly clearing the $1 level before the end of the summer.
And if the market continues to become more bullish, it could end the year at $2 or higher.
Other High-Potential Altcoins
As promising as XRP looks right now, it isn't the only altcoin with the possibility of strong gains on its horizon.
There are also a number of new presale tokens doing well right now, with the best of these potentially on course to rally hard once they list on exchanges for the first time.
One of the best examples of this is Wall Street Memes, which has impressively raised more than $15.2 million in the sale for its WSM token.
Emerging out of the meme stocks movement famously responsible for the 2021 GameStop and AMC rallies, Wall Street Memes has been successful in cultivating a strong community, with its Twitter account now has over 252,000 followers.
Such a following is probably the main reason why it has raised so much money in such a short space of time, while it's also the main reason why WSM is likely to be a successful meme token when it launches in the next few weeks.
Indeed, the token has allocated 50% of its two billion supply to its presale, with another 30% going towards community rewards, an allocation that looks as though it's already making its holders feel more invested in it.
New buyers can join the WSM presale by going to the official Wall Street Memes website, with 1 WSM now available for $0.0316.
Its presale will close with a price of $0.0337, while its addition to exchanges following the sale's end could see this rise even higher.
Disclaimer: Crypto is a high-risk asset class. This article is provided for informational purposes and does not constitute investment advice. You could lose all of your capital.