XRP Price Prediction as Bulls Hold $0.70 Level – Where is the Next XRP Target?
The XRP price has dipped by 0.5% in the past 24 hours, although its slide to $0.745059 still means it's up by 56% in the last seven days.
XRP continues to ride strong momentum caused by Ripple's positive result in its case with the SEC, with the altcoin also up by more than 100% in the past 12 months.
Given XRP's current strength, and given that it had been undervalued for so long because of the SEC case, it's likely that the cryptocurrency will continue to witness gains over the coming weeks.
And with Ripple now likely to be in a better position to continue growing its business, the long-term future could really see XRP become the third-biggest coin in the market, behind Bitcoin and Ethereum.
XRP Price Prediction as Bulls Hold $0.70 Level – Where is the Next XRP Target?
XRP's indicators continue to signal considerable strength, with the coin's relative strength index (purple) still remaining above 60 despite a dip since the weekend.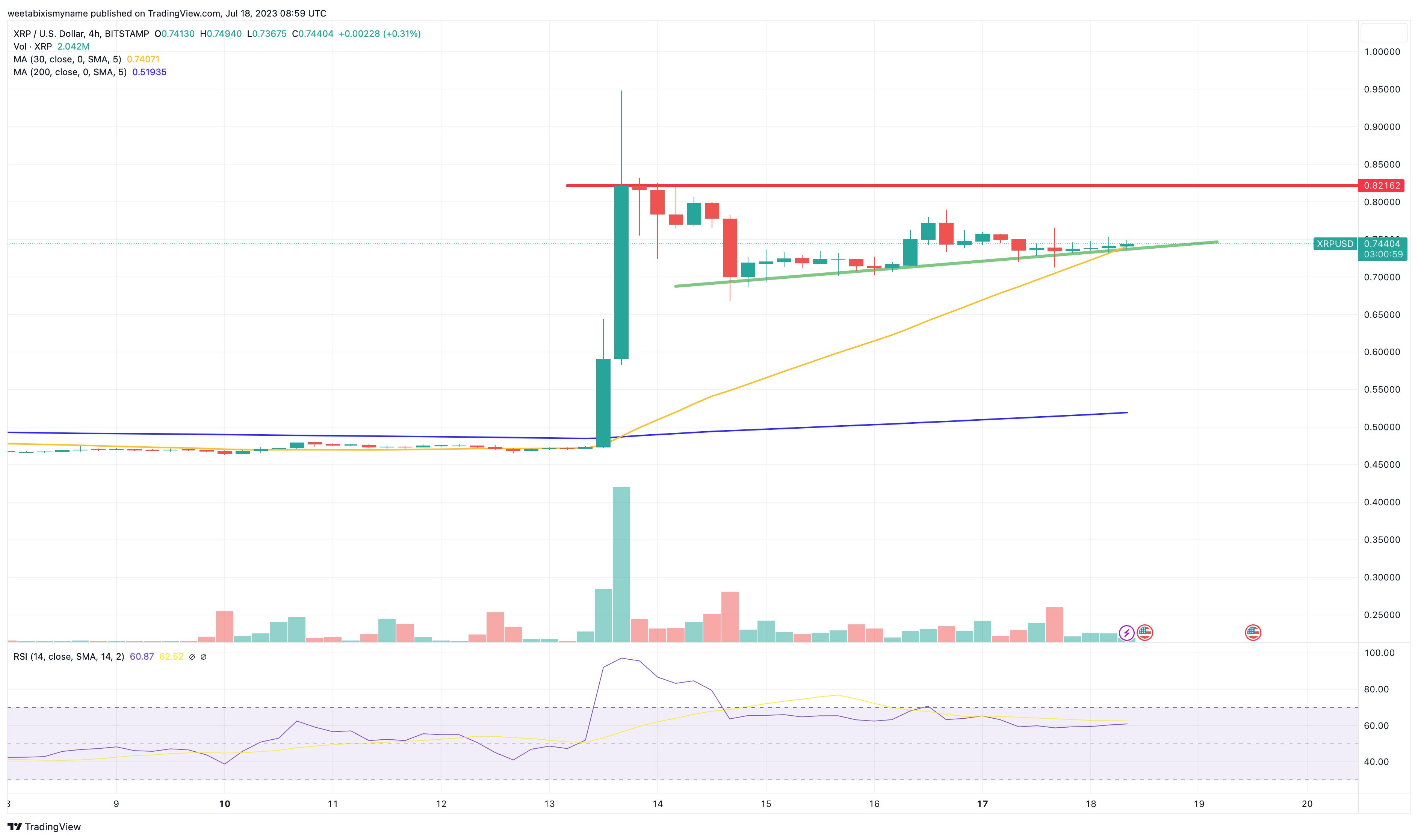 Source: TradingView
More impressively, XRP's 30-day moving average (yellow) continues to rise steeply above its 200-day average (blue), showing no signs that it will be running out of steam anytime soon.
Likewise, the altcoin's support level (green) is also rising, meaning that XRP has consolidated around a much higher base level, enabling to launch new rallies from ever-higher starting positions.
In purely technical terms, XRP's current position looks promisingly strong, yet its fundamental position is perhaps even stronger, given last week's developments.
As mentioned above, Ripple received a largely positive ruling in its case with the SEC, with Judge Analisa Torres finding that the firm's non-institutional sales of XRP (e.g. its sales on exchanges) did not amount to the offering of unregistered securities.
This has enabled the vast majority of US-serving exchanges to relist XRP, providing another big factor in the coin's ongoing rally.
And it's arguable that things only get better for XRP from here on out, with Ripple likely to expand more aggressively now that it has secured what many are regarding as a victory.
As we've noted before, Ripple has consistetly posted positive financial results, even during its case with the SEC, meaning that it's likely to perform even more positively in the coming months and years.
It will likely be more able to sign more new partnerships, as it has done in recent months and years, with the University of Toronto – the largest university in Canada – becoming an XRP validator in June, for example.
Such partnerships put Ripple in a good position to continue its growth, with XRP likely to grow in parallel.
From its current position of $0.74, it could easily reach $1 in the next few weeks, before seeing out the year closer to $2.
Diversify with New Altcoins
XRP is undoubtedly one of the strongest major tokens in the market right now, but it would be unwise for traders to hedge all of their bets with the altcoin.
Instead, a diversified portfolio can often be one of the best ways of raising an investors chances of big gains, with a number of newer altcoins also showing high potential at the moment.
This is particularly the case with presale tokens, with Wall Street Memes already raising more than $15.5 million in the sale for its WSM token.
Emerging out of the meme stocks movement that triggered the 2021 GameStop and AMC rallies, Wall Street Memes has been successful in cultivating a strong community, with its Twitter account now has over 252,000 followers.
Such a following is the main reason why its presale has been so successful, and it's likely that the coin's growing community will help support and increase its price once it lists.
50% of the token's supply has been allocated to its presale, with another 30% going towards community rewards, providing its community with a strong incentive to boost the meme coin.
New buyers can join the WSM presale by going to the official Wall Street Memes website, with 1 WSM now available for $0.0319.
Its presale will close with a price of $0.0337, although this could rise much higher soon after it's added to exchanges.
Disclaimer: Crypto is a high-risk asset class. This article is provided for informational purposes and does not constitute investment advice. You could lose all of your capital.