XRP Dethrones Bitcoin (BTC) as Top-Traded Asset, Dominates 20% of Crypto Market
In a groundbreaking development, XRP, the "liberated" token, has surpassed Bitcoin (BTC) to become the highest volume asset on the crypto market. According to a report by smart data portal Kaiko, a staggering 21% of all crypto trade volume has been attributed to XRP since last week's court ruling.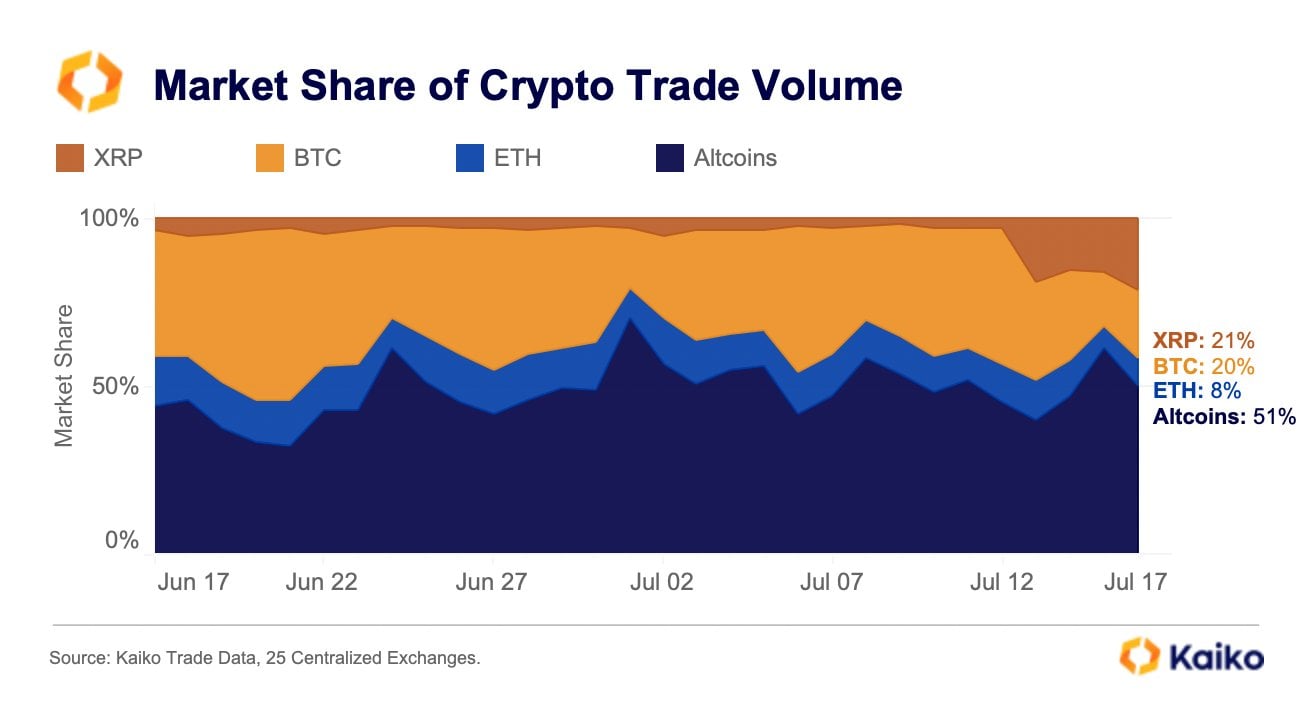 The unexpected announcement of XRP being recognized as a nonsecurity last Thursday definitely sent shockwaves throughout the whole industry. What makes these statistics even more impressive is not just XRP's triumph over Bitcoin but the fact that it managed to capture a fifth of the multi-billion-dollar market within a matter of days. Just three hours after this news, almost two billion XRP tokens were traded on the Binance spot market alone.
Positioning matters
Interestingly, just a day before this monumental achievement, U.Today reported, based on the same Kaiko data, that XRP had climbed to become the third digital asset by trading volume. This ascent was fueled by investors' anticipation that the lawsuit would soon be resolved, and their expectations proved accurate.
Ripple v. SEC: XRP Dominates Crypto Market With Soaring Value as Verdict Looms
One may attribute this seismic shift in XRP trading to the prevailing low volatility in the market at that time. The Bitcoin Volatility Index (BVOL), a benchmark of the crypto market, measured at a mere 14.78 on Thursday — comparable to levels seen in December, late April and June. Following the news of XRP's surge, the BVOL value skyrocketed by more than 5% in the following days, a significant jump.
#XRP #Ripple News #Bitcoin News
About the author
Financial analyst, trader and crypto enthusiast.
Gamza graduated with a degree in finance and credit with a specialization in securities and financial derivatives. He then also completed a master's program in banking and asset management.
He wants to have a hand in covering economic and fintech topics, as well as educate more people about cryptocurrencies and blockchain.