Why This Upcoming Event Is Bearish For Axie Infinity (AXS)
Axie Infinity (AXS) continues to be one of the top performers in the market even though the bear market trend. However, an upcoming token unlock event could put an end to the alt coin's bullish trend given the amount of tokens involved.
$21.7 Million In AXS Set To Be Unlock
The upcoming Axie Infinity (AXS) token unlock event is the most notable unlock happening this week. Out of the total $27.4 million in tokens set to be unlocked across the space today, AXS unlocks make up the vast majority.
Related Reading: Bearish Signal: BNB Open Interest Skyrockets To New Highs
According to the token tracking website Token Unlocks, a total of 3.43 million tokens are set to be unlocked in four days on July 22. Going by the current price of AXS tokens at the time of this writing, this translates to $21.55 million in tokens.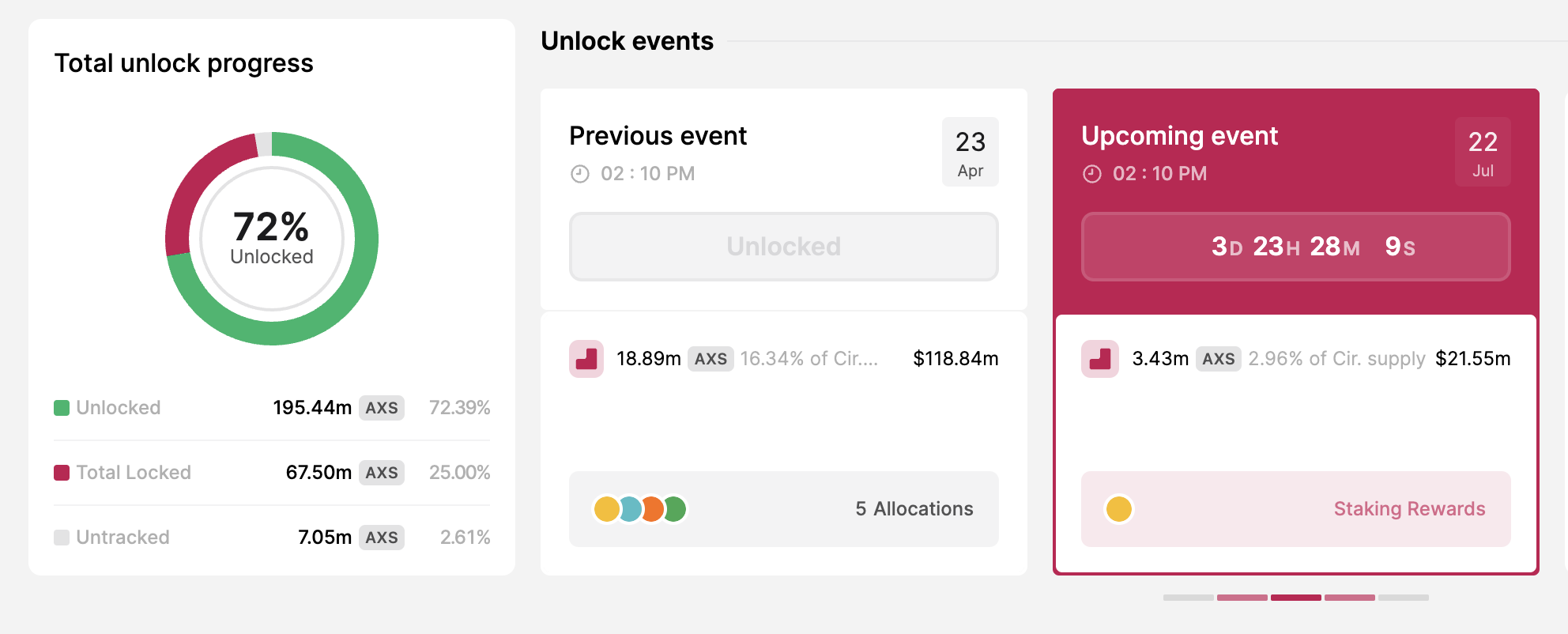 $21.55 million in AXS tokens set to be unlocked | Source: Token Unlocks
This next unlock will see another 2.96% of the total 270 million supply being sent back into circulation. However, unlike its last token unlock held on April 23, the entirety of this token unlock is going toward staking rewards for users of the platform.
Will This Affect The Axie Infinity Token Price?
The Axie Infinity (AXS) token unlock will no doubt put bearish pressure on the price of the digital asset. This is because the unlock will increase the circulating supply amid declining demand in the market. As such, AXS's price could see a decline from July 22.
However, it is important to note that as these tokens are only going toward staking, they will likely not hit the market at the same time. Such staggered introduction into the market could mitigate selling pressure, giving the buyers time to garner enough demand to offset the new supply.
AXS price at $6.24 | Source: AXSUSD on TradingView.com
This is possible though as long as the general crypto market does not succumb to the bear pressure current mounting. If Bitcoin is able to recover above $31,000 once more, then coins like AXS will benefit as market sentiment recovers.
Related Reading: Crypto Liquidations Cross $300 Million Amid Massive Market Recovery
For now, AXS is still holding steady compared to others in the space. The altcoin is currently changing hands at a price of $6.24, recording a 0.32% decline in the last 24 hours, but seeing 6.86% gains on the 7-day chart.