Terra Luna Classic Price Prediction as LUNC Jumps Up 5% – Time to Buy?
The price of Terra Luna Classic (LUNC) has jumped by as much as 5% in the past 24 hours, with the altcoin currently sitting on a 13% gain in the last seven days.
At $0.00009271, LUNC is also up by 6% in a fortnight, although it remains down by 36% since the beginning of the year, with the market becoming increasingly frustrated with the Terra Luna Classic community's lack of progress in re-pegging sister stablecoin USTC.
This lack of progress has been worsened in recent weeks by disagreement over upgrade proposals, including proposals related to reverse splitting USTC and also to reducing LUNC's staking undelegation period.
As such, it may take some time for LUNC to mount a serious recovery, although with the coin still undervalued, now may still be a very good time to buy the coin at a discount.
Terra Luna Classic Price Prediction as LUNC Jumps Up 5% – Time to Buy?
LUNC's chart suggests that it may be in a position to make further gains, with its indicators looking as though they should all be rising in the short-term.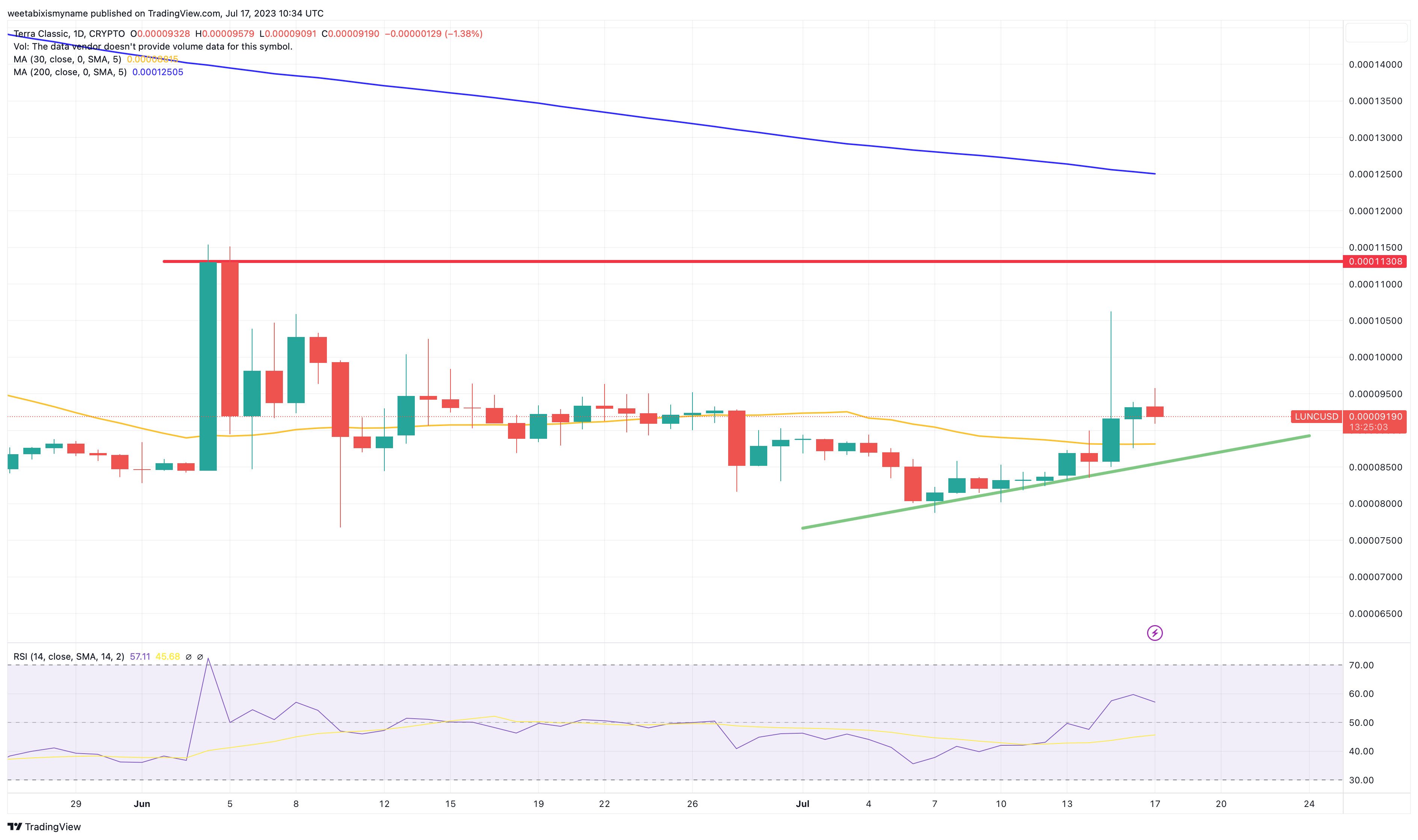 For one, LUNC's relative strength index (purple) has risen to 60 today, indicating an influx of buying momentum that could push the altcoin higher.
At the same time, the coin's 30-day moving average (yellow) has been well below its 200-day average (blue) for far too long, meaning that a reversal towards a more positive position is long overdue.
That further gains could be coming is also suggested by LUNC's support level (green), which has been rising over the past week, with the coin not falling far at all whenever its gains have stalled.
This is a positive development, although the question of whether LUNC can make truly substantial returns all hinges on whether the Terra Luna Classic community can reach agreement on a plan for boosting the coin's price, as well as that of its related stablecoin, USTC.
Recent weeks have witnessed some progress in this respect, with validators accepting a proposal to establish a test environment for trailling new updates, so as those related to re-pegging USTC and/or burning LUNC.
Unfortunately, not much has been achieved beyond such measures, with little concrete progress in terms of actually putting something into practice.
Real progress has been hampered to a large extent by disagreement within the LUNC community on how to boost the coin's fortunes, with a number of recent proposals being rejected by validators.
While rejected proposals may have deserved to fail, the fact that numerous proposals are being put forward and then rejected highlights the unfortunate division at the heart of the Terra Luna Classic community.
For this reason, it may be some time before LUNC enjoys a really substantial gain, even if it could potentially rise to $0.0001 in the next few weeks, and possibly $0.0002 or $0.0003 by the end of the year.
Presale Tokens Have More Potential
Because holders may be waiting several months (if not longer) for LUNC to post serious returns, some traders may prefer to look elsewhere for shorter term and more substantial gains.
One good source of big returns at the moment is presales, with presale tokens – at least the better ones – potentially in line for making serious gains once they list on exchanges for the first time.
One of the strongest presale coins in terms of fundamentals right now is Chimpzee, an Ethereum-based platform that rewards its users for taking actions that support the environment and endangered animals.
Chimpzee opened the presale for its native CHIMPZ token last month, and has already raised more than $850,000.
Due for launch in Q4 2023, Chimpzee's platform aims to incentivize greener consumption habits by offering various shop-to-earn and trade-to-earn features.
To this end, Chimpzee's shop-to-earn feature will reward users with CHIMPZ for every purchase they make, with a percentage of each purchase being donated to environment-focused organizations and charities.
This means that Chimpzee's users will be making a positive impact on the world whenever they use its platform, with Chimpzee already signing partnerships with a number of projects and organizations.
This includes campaigns to plant trees and also to protect elephants in Mali, while it's also very encouraging to note that 10% of CHIMPZ's supply will be reserved for charitable causes.
It's because of its focus on worthwhile causes that Chimpzee has been able to stand out from the crowd and attract a growing number of investors.
New investors can join by visiting Chimpzee's official website and connecting their crypto wallets, with CHIMPZ buyable using USDT, ETH or fiat currency.
1 CHIMPZ token currently costs $0.0007, with this price due to rise to $0.000775 in just over four days.
It's interesting to note that CHIMPZ will list with a price of $0.00185, meaning that anyone who buys it now will be looking at a 164% gain, and that's even before this very promising token lists on exchanges.
Disclaimer: Crypto is a high-risk asset class. This article is provided for informational purposes and does not constitute investment advice. You could lose all of your capital.