Solana Price Prediction as $1 Billion Trading Volume Comes In – Are Whales Buying?
The price of Solana (SOL) has dropped by 6% in the past 24 hours, with its fall to $25.61 coming as the cryptocurrency market as a whole dips by 1% in the same period.
SOL remains up 16% in a week and by 64% in the last 30 days, with the altcoin also having risen by an impressive 150% since the beginning of the year.
As with other altcoins, SOL has benefitted hugely from the positive outcome to Ripple's case with the SEC, and with its trading volume still hovering around $1 billion, it could see more gains in the near future.
Solana Price Prediction as $1 Billion Trading Volume Comes In – Are Whales Buying?
Solana's chart suggests that the altcoin may be correcting after a very vigorous rally towards the end of last week, with its indicators looking primed for further falls.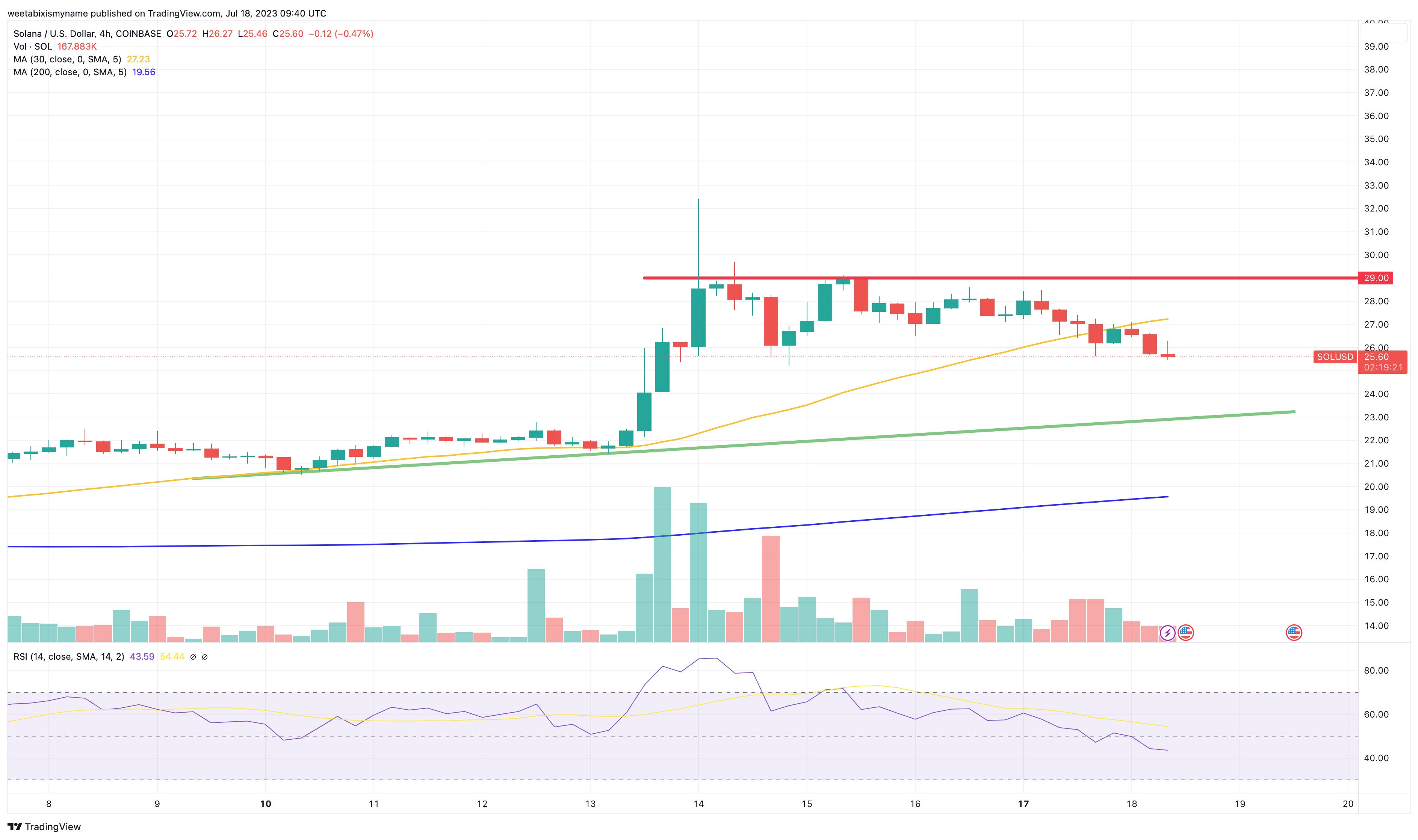 Source: TradingView
Its relative strength index (purple) has fallen below 50 after spending much of the weekend close to 80, meaning that SOL could decline further as the RSI makes its way towards 30 or 20.
At the same time, it's possible that SOL's 30-day moving average (red) has reached a peak relative to its 200-day average (blue), implying that it's due to come down and bring the altcoin's price along with it.
Indeed, SOL's price seems to be moving down towards the support level (green) it had set prior to the market-wide rally at the end of the week, meaning that it could see a price of around $23 before it begins rallying again.
Still, things look brighter for Solana on a fundamental level, with the cryptocurrency having recovered well this year after a 2022 marred by a number of damaging network outages.
This has been helped largely by the fact that Solana has been able to record close to 100% uptime since its last outage in 2022, while it also ranks third for blockchains in terms of NFT sales volumes.
Because of all this, SOL is likely to continue seeing gains over the rest of the year, even if it may have to dip in the next few days.
From $25, it could reach $30 in the next few weeks or months, before welcoming 2024 at around $40.
New Altcoins with Strong Fundamentals
It should be added that SOL's gains from here on out may be gradual, meaning that traders looking for quick above-average gains may prefer to look elsewhere.
One promising source of fast returns is presales, which can often see tokens rally hard after listing on exchanges for the first time.
A strong example of a presale token is yPredict.ai, a Polygon-based platform that harnesses AI and advanced algorithms to provide users with various trading intelligence tools.
It launched the presale for its native YPRED token last month, and has already raised more than $3 million.
On top of this, yPredict.ai has already launched several of its features over the past couple of months, includings its first predictive AI model.
The next few months will also see it release additional AI-based prediction tools, including sentiment and transaction analysis, buy/sell signals, aand also its own sophisticated trading terminal.
Such features will be made available through yPredict's own marketplace, enabling developers to sell their models and other products directly to traders.
Within this ecosystem, YPRED will be used to pay for subscriptions to such models, as well as for staking purposes and for gaining access to the platform's analytics.
YPRED's utility means that it's likely to grow in value in proportion to the growth of yPredict.ai as a platform, something which has clearly made many investors bullish for it.
New investors can join the presale early by going to the official yPredict.ai website and connecting their software wallets, with 1 YPRED currently costing $0.1.
This will rise to $0.12 by the time the sale ends, although exchange listings could push this price even higher soon enough.
Disclaimer: Crypto is a high-risk asset class. This article is provided for informational purposes and does not constitute investment advice. You could lose all of your capital.