Polkadot (DOT) Price Momentum Builds As Open Interest Climbs – Details
Polkadot (DOT) has enjoyed a successful three-week period, with bullish investors maintaining their position at the forefront despite fluctuations in the market.
In addition, the recent legal victory of Ripple against the US Securities and Exchange Commission triggered a positive response across the entire market, benefiting not only significant cryptocurrencies like Bitcoin (BTC) and Ethereum (ETH) but also altcoins in general.
Nevertheless, it is essential to note that Bitcoin and Ether experienced notable downward corrections in the short term after they attempted to surge higher last week. As a result, there might be some selling pressure soon for these leading cryptocurrencies, which could potentially harm the price of DOT.
Given this scenario, how can DOT bulls regain control and overcome a potential market correction?
DOT Price Update: Minor Dip, But Open Interest Improves
The latest update on DOT's price from CoinGecko shows that it currently stands at $5.30. While the cryptocurrency experienced a slight decline of 1.7% over the past 24 hours, it still managed to maintain a seven-day rally of 4.8%. However, a closer analysis of the DOT price report shows some concerning indicators.
Source: Coingecko
According to a report, by mid-June, the Open Interest had significantly diminished compared to its April levels, signaling a bearish sentiment. However, as the month advanced, a reversal in this trend emerged.
Related Reading: Shiba Inu Encounters Familiar Resistance, Prompting Concerns About Bull Run
Source: Coinglass/AMBCrypto
The declining Open Interest in April, which refers to the number of open contracts in the market, served as an early indicator that hinted at the forthcoming bearish sentiment.
As traders and investors reduced their positions and interest waned, it reflected a growing caution and skepticism in the market. This downward trend in Open Interest implied a decrease in market participation and a potential lack of confidence in the prevailing bullish trends.
Related Reading: USTC Surprises With Nearly 60% Rally – What's Going On?
However, as June unfolded, a gradual and encouraging shift in market sentiment began to take shape. Market participants started to exhibit a more optimistic outlook, which was reflected in the increasing Open Interest. This surge in OI suggested renewed interest and activity, as traders and investors re-entered the market and established new positions.
DOT market cap currently at $6.3 billion. Chart: TradingView.com
Polkadot Potential Rebound Tied To Bitcoin's Resilience
On the other hand, if BTC can stabilize or even climb back above $31,000, DOT will likely follow suit. The correlation between BTC and altcoins like DOT has been a well-established trend in the cryptocurrency market.
BTC, the dominant cryptocurrency and a significant influencer of market sentiment, often sets the tone for the overall market direction. If Bitcoin regains stability and exhibits a bullish move, it tends to ignite a favorable view among traders and investors. This positive sentiment, in turn, could extend to altcoins like DOT.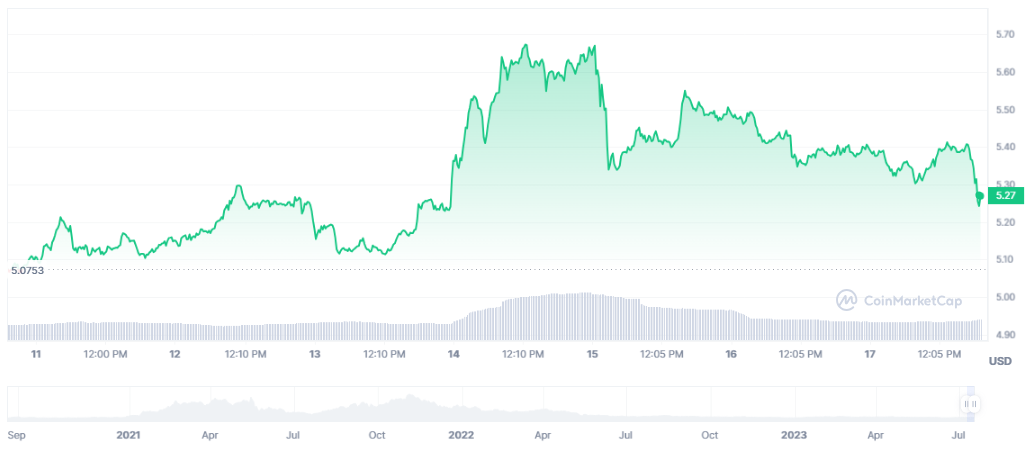 DOT seven-day price movement. Source: CoinMarketCap
Therefore, for DOT bulls looking to reclaim their yard and counteract the potential negative impact of a market correction, monitoring BTC's performance closely becomes crucial. If Bitcoin can stabilize or, ideally, recover above the significant resistance level of $31k, it would likely create a favorable environment for DOT to regain momentum.
(This site's content should not be construed as investment advice. Investing involves risk. When you invest, your capital is subject to risk).
Featured image from VOA News