FTX and Alameda Move Nearly $20,000,000 in Solana (SOL) and Other Altcoins in Just One Day: On-Chain Data
The estate of bankrupt crypto exchange FTX and its associated trading arm Alameda Research was seen moving almost $20 million in crypto assets over the weekend.
First spotted by blockchain tracking firm Lookonchain, wallets belonging to FTX and Alameda moved a total of $19.4 million worth of crypto assets, largely made up of Solana (SOL) and several other altcoins.
"UPDATE:
FTX/Alameda transferred $19.4 million in assets again today, including:
309,185 SOL ($10 million)
2.03M BAND ($3.15 million)
3.82M PERP ($2.3 million)
46.67M TRU ($1.78 million)
4.39M BICO( $1 million)
915,048 KNC( $686,000)
5.47M CVC ($479,000)
7,275 BOND ($30,000)."
Lookonchain is keeping track of all the crypto assets transferred out of the FTX bankruptcy estate, which amounted to $78.7 million as of October 28th. The top crypto assets that were moved out of the wallets controlled by the estate include SOL, Ethereum (ETH), Chainlink (LINK) Polygon (MATIC) and the cross-chain data oracle platform Band Protocol (BAND).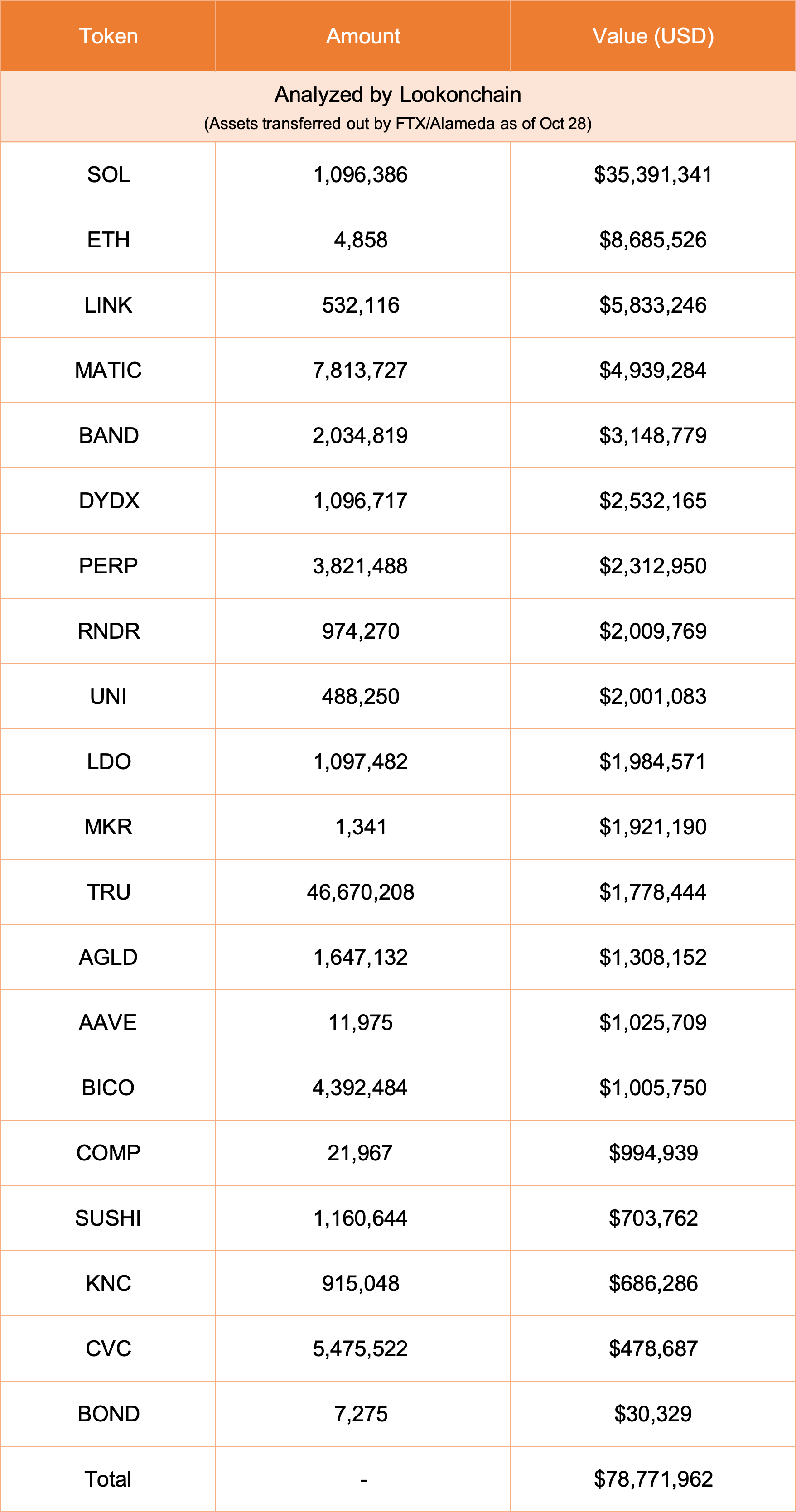 Lookonchain notes that the bankruptcy estate of the firms still holds roughly $600 million in crypto assets that haven't been sold or transferred, including nearly $100 million in ETH.
"We analyzed eight FTX/Alameda addresses that have sold assets recently.
These addresses currently hold ~$619 million in crypto assets.
Including:
55,280 ETH ($99 million)
69.7 million FTT ($91.55 million)
25 million WLD( $44.6 million)
53 million MATIC ($33 million)
16.9 million TOMOE ($30.7 million)."
Former FTX CEO Sam Bankman-Fried, who faces decades in prison, began his testimony last week following rather damning testimonies from several of his former colleagues.
Caroline Ellison, the ex-CEO of Alameda, testified that she received instructions from Bankman-Fried to commit several crimes.
In a recent interview on the This Week in Startups podcast, Inner City Press reporter Mathew Russell Lee said that Ellison's testimony was particularly damning for Bankman-Fried.
"I think Ellison was a very strong witness because… she [described] how it worked and she's pled guilty – she acknowledges that she knew that Alameda had this incredible $65 billion line of credit with FTX [and] that when people thought they were sending in money to trade on the FTX platform, it was being diverted to Alameda, but she says very much 'Sam told me to do this.'"
Featured Image: Shutterstock/carlos castilla