ETHBarcelona: a crypto conference that is also a party
ETHBarcelona, one of the year's most anticipated crypto conferences, just concluded, having transformed the typically staid and formal atmosphere of such gatherings into a pulsating, exuberant fiesta that rivaled the best Barcelona parties.
While maintaining the gravitas of a serious crypto event by featuring heavy hitters from the industry, ETHBarcelona has redefined the traditional conference formula by incorporating entertainment and lifestyle elements to foster a more engaging, relaxed environment.
Like any major crypto event, ETHBarcelona boasted a roster of prominent industry personalities who participated in various capacities. Attendees had the opportunity to listen to insightful talks, participate in practical workshops, and join in intense panels and debates led by the likes of Ethereum Foundation's Mário Havel, Multicoin Capital's Aleksija Vujicic, and Worldcoin's Miguel Piedrafita.
Topics covered ranged from the financial aspects of cryptocurrency, privacy, and cybersecurity concerns to scalability challenges and solutions. All tied in with technical workshops for programmers.
You might also like: Bounty marketplace exec explains how to launch crypto project without getting hacked
Stages and speakers
The thematic core of ETHBarcelona revolved around two growing movements in the crypto world: Solarpunk and Moonpunk. They were celebrated and explored in the conference's two main stages, the Moon Stage and the Solar Stage, each reflecting the distinct ethos of the respective movement.
The Moon Stage catered to themes inherent to the Moonpunk movement, reflecting the more traditional cypherpunk ideals. As the 'dark side of the moon' often symbolizes the unknown and the unexplored, the stage was fittingly dedicated to discussions on security, privacy, and other nuanced concerns integral to the crypto world's origin. This stage provided a platform for addressing these complex and challenging topics, fostering an atmosphere of intense debate and intellectual exploration.
On the other hand, the Solar Stage, echoing the Solarpunk movement's aspirations, was a beacon for more financially-oriented and mainstream crypto discourses. The stage symbolized cryptocurrencies' bright, 'solar' future and their potential to revolutionize our financial systems. Here, attendees could discuss the economic aspects of crypto, understand its practical implications, and explore strategies for crypto-based wealth generation and management.
Complementing these two stages was the spacious Stellar Room, a relaxation area for attendees to decompress, network informally, and reflect on the rich insights gained from the sessions. It served as a serene sanctuary amidst the fast-paced energy of the conference, offering participants a space to catch their breath, regroup, and prepare for the next session.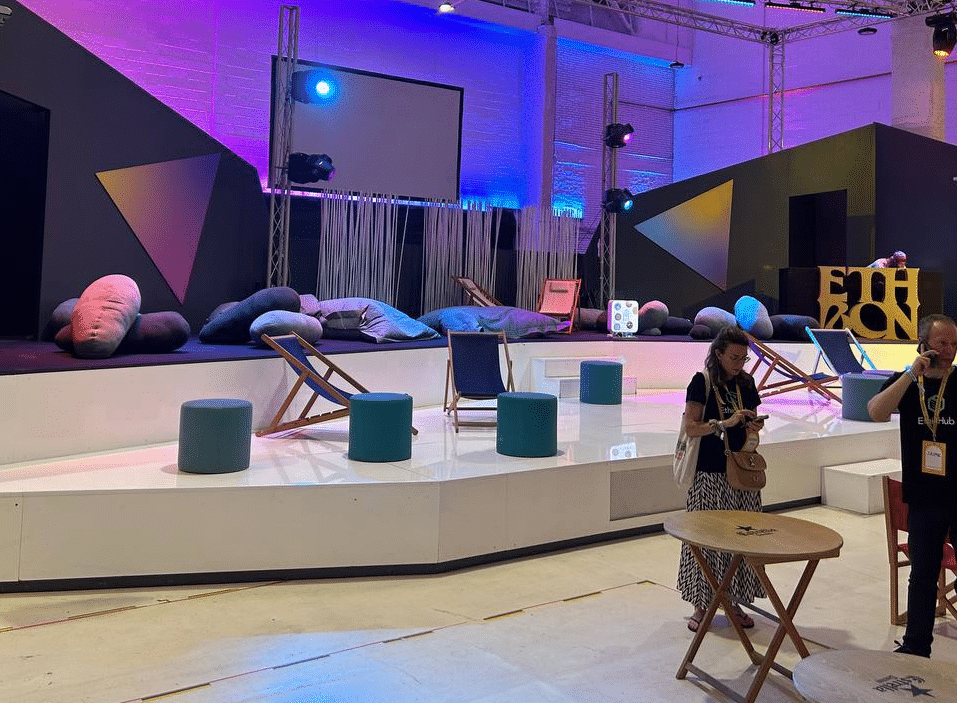 Stellar Room Stage | Photo by Adrian Zmudzinsky
The Space Lab added a layer of practical, hands-on learning to the event. This large classroom-like area was dedicated to workshops, allowing participants to go beyond theory and immerse themselves in real-world applications of crypto technology. The Space Lab encouraged active learning and facilitated the sharing of ideas and collaborative problem-solving, further enhancing the conference's value for attendees.
Work-life balance
However, ETHBarcelona did not just stop at intellectually stimulating content. The event was determined to be as much about enjoyment as education. A day-long DJ set created an energetic backdrop to the conference, accompanying the dialogue and networking with a steady flow of dynamic beats that brought a refreshing vibe to the event.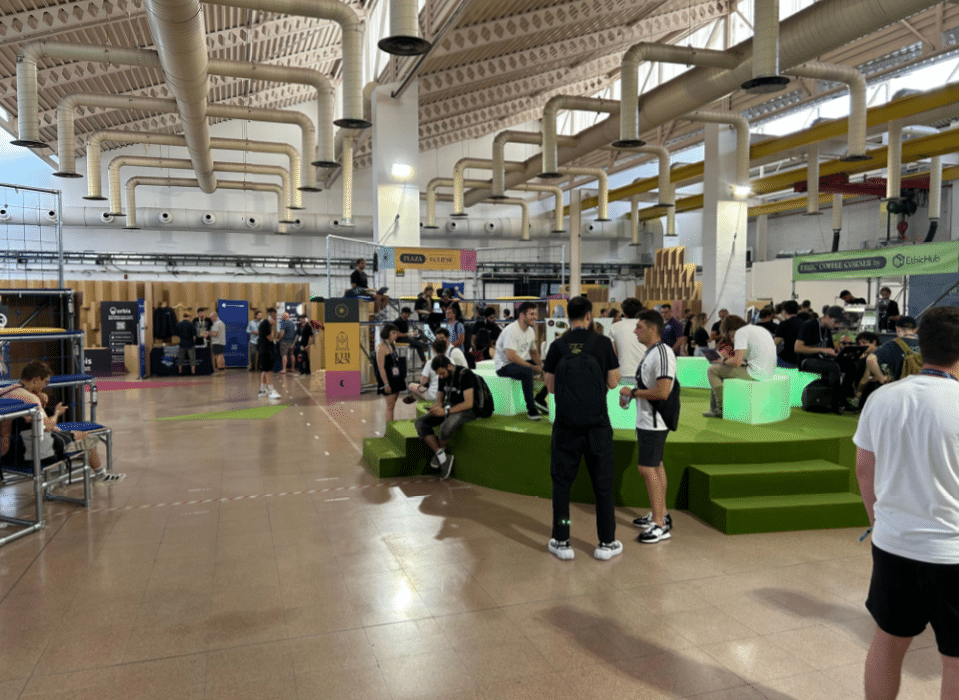 Hub area | Photo by Adrian Zmudzinsky
Moreover, ETHBarcelona recognized the need for balance and mental well-being, particularly in an industry that operates around the clock. To this end, attendees had the chance to unwind with guided meditation sessions and join in on yoga classes in a room dedicated to tranquility with relaxing music and dim colored lights. Physical fitness and resilience were also maintained through Krav Maga self-defense workshops.
A surprise addition to the event was a boxing ring, not for physical matches, but for hosting heated debates, adding a literal punch to the intellectual clashes. This unique setup underscored the event's commitment to dynamic engagement and creative innovation.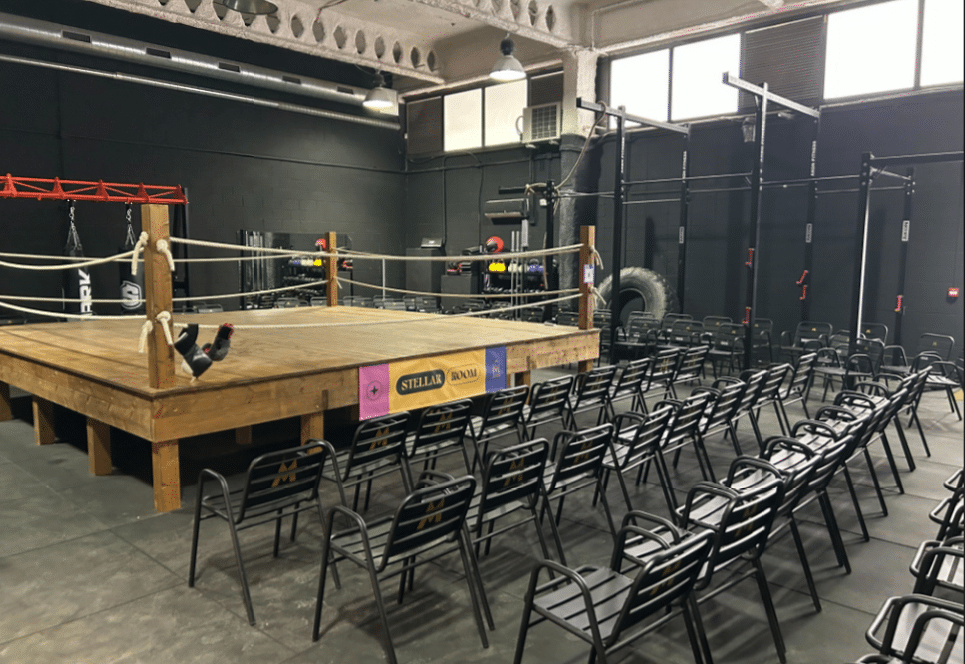 Boxing ring | Photo by Adrian Zmudzinsky
The conference's climax came in the form of an extravagant pool party. Conference-goers had the opportunity to unwind, connect, and take a refreshing dive, proving that crypto and partying can indeed mix.
New standard for crypto events
ETHBarcelona effectively achieved a delicate balance, bridging the gap between professionalism and entertainment. Attendees could delve deep into critical crypto matters during the day and then dance their worries away at night.
This imaginative blend of business and leisure at ETHBarcelona has set a new precedent for crypto events. It's a conference model that caters to not only the attendees' minds but also their need for relaxation and enjoyment.
The event has demonstrated that learning about cryptocurrency doesn't have to be all work and no play. By incorporating elements of fun and relaxation, ETHBarcelona has humanized the often-intimidating world of cryptocurrency, paving the way for future events to follow in its groundbreaking footsteps.
You might also like: AI messaging interface aims to bridge gap in web3 accessibility
Solar Stage events
The Solar Stage at ETHBarcelona was a lively hub of discussion around mainstream and financial themes in the crypto space, addressing cryptocurrencies' economic potential and transformative power. This stage presented a plethora of forward-looking subjects across different fields.
Among other subjects, attendees delved into the postcapitalist world by discussing protocols and economic-organizational expression. The focus was on exploring the possibilities of a decentralized and regenerative economy, marking a significant shift from traditional capitalist constructs.
Diversity and inclusion were essential facets for developing impactful regenerative projects. Further sessions were designed to unlock the potential of decentralized collaboration for sustainability and explore the unique dynamics of public goods in the digital realm.
Notably, the Solar Stage also offered sessions to tackle the technical challenges that come with the evolving landscape of cryptocurrency. Subjects included the limitations of layer 2 solutions and how to leverage Oracle Extractable Value through order flow auctions.
Part of the event also ventured into the philosophical when participants explored what it meant to be a radical in the crypto world. Those topics and many more were entertained on the Solar Stage.
You might also like: From surveillance to empowerment: ethical web3 enthusiast advocates for privacy at ETHBarcelona
Moon Stage events
The Moon Stage at ETHBarcelona covered many compelling and complex topics, many tied together by the overarching theme of security and privacy. Discussions explored the importance of security in project launches, focusing on strategies to avoid hacking.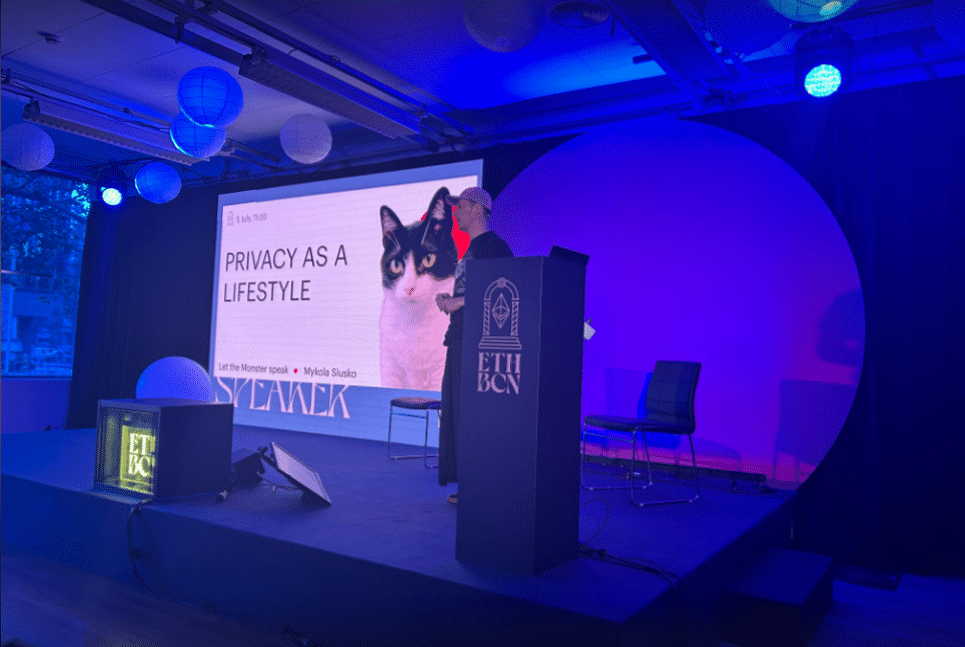 Moon Stage | Photo by Adrian Zmudzinsky
Delving into the theme of privacy, talks revolved around DAOs and zero-knowledge technology in the age of transparency. Other topics included the prediction of crypto exploits, privacy in blockchain, improving privacy protocols to prevent crime and funding and incentivizing Ethereum's core protocol development.
Other topics brought to the Moon Stage brought together many subjects, including harnessing the power of ecosystem kits and strengthening civil liberties with politically neutral networking.
You might also like: Status' co-founder shares insights on strengthening civil liberties with politically neutral networks
The debates on DAO governance also took center stage, with panelists probing who should have a say. They also examined the state of the art of folding schemes and what to build next from a security perspective. The day started with presentations on zero-knowledge proof-based on-chain private voting and ORC assets.
Participants also discussed the future of privacy, creating secure and permissionless systems without black hat hacking opportunities, and the rise of anonymous cryptocurrencies. The circular economy, building decentralized web, Ethereum smart contract security, and the creation of new token standards were also explored.
Overall, the topics presented on the Moon Stage reflected the serious, nuanced concerns integral to the crypto world's origin, facilitating the exploration of the darker, complex underpinnings of the crypto world.
Stellar Room events
The Stellar Room at ETHBarcelona was a hub of a long list of workshops, offering a broad spectrum of workshops that delved into various aspects of the crypto space. The workshops brought to life an array of topics, delivering rich content designed to enhance participants' understanding of blockchain technology and the newest protocols, their potential and practical applications.
One focal point was web3, with workshops exploring its future, philosophy, shifts, learnings, and opportunities in marketing. The metaverse was another key theme, with workshops discussing avatars and digital identities.
More technical workshops included topics such as making blockchains more useful for mainstream adoption. These sessions offered practical strategies and insights for enhancing blockchain's accessibility and appeal to a broader audience, thus fostering its wider adoption.
The intersection of AI and crypto was also a central theme, with discussions on how these groundbreaking technologies could synergize to shape the future. Additionally, attendees were introduced to the concept of 'regenerative events' and 'regenerative future,' showcasing the potential of blockchain technology in creating sustainable and resilient systems.