Crypto Analyst Tone Vays Issues Bitcoin Alert, Warns Traders Not To 'Go Crazy' As BTC Soars by 10% This Week
Veteran crypto trader Tone Vays is predicting that Bitcoin's (BTC) latest rally will end before reaching a key level.
In a new strategy session, Vays tells his 122,000 YouTube subscribers that despite BTC's 10% surge this week, he does not believe the king crypto will hit the $32,000 level.
"Let's not go crazy here. I still think there'll be a pullback sometime in November. I don't think this is rallying to $32,000."
Looking at the trader's chart, Vays seems to predict that Bitcoin will fall to around $28,000 before taking out the top of the range at $31,000 and rallying above $34,000.
Bitcoin is trading for $29,573 at time of writing.
Next, the trader warns that Ethereum (ETH) is forming a double-bottom pattern against Bitcoin (ETH/BTC). While the double-bottom pattern is typically seen as a bullish formation, Vays believes that the pattern's support will not hold for ETH/BTC, setting up the pair for more downside price action.
"Ethereum is making new lows against Bitcoin. This is not surprising. Ethereum is in a very critical support area…
On a monthly scale, Ethereum still has significantly more downside. This is a very nasty double bottom. This is very bad for Ethereum. This sets up Ethereum to go significantly lower."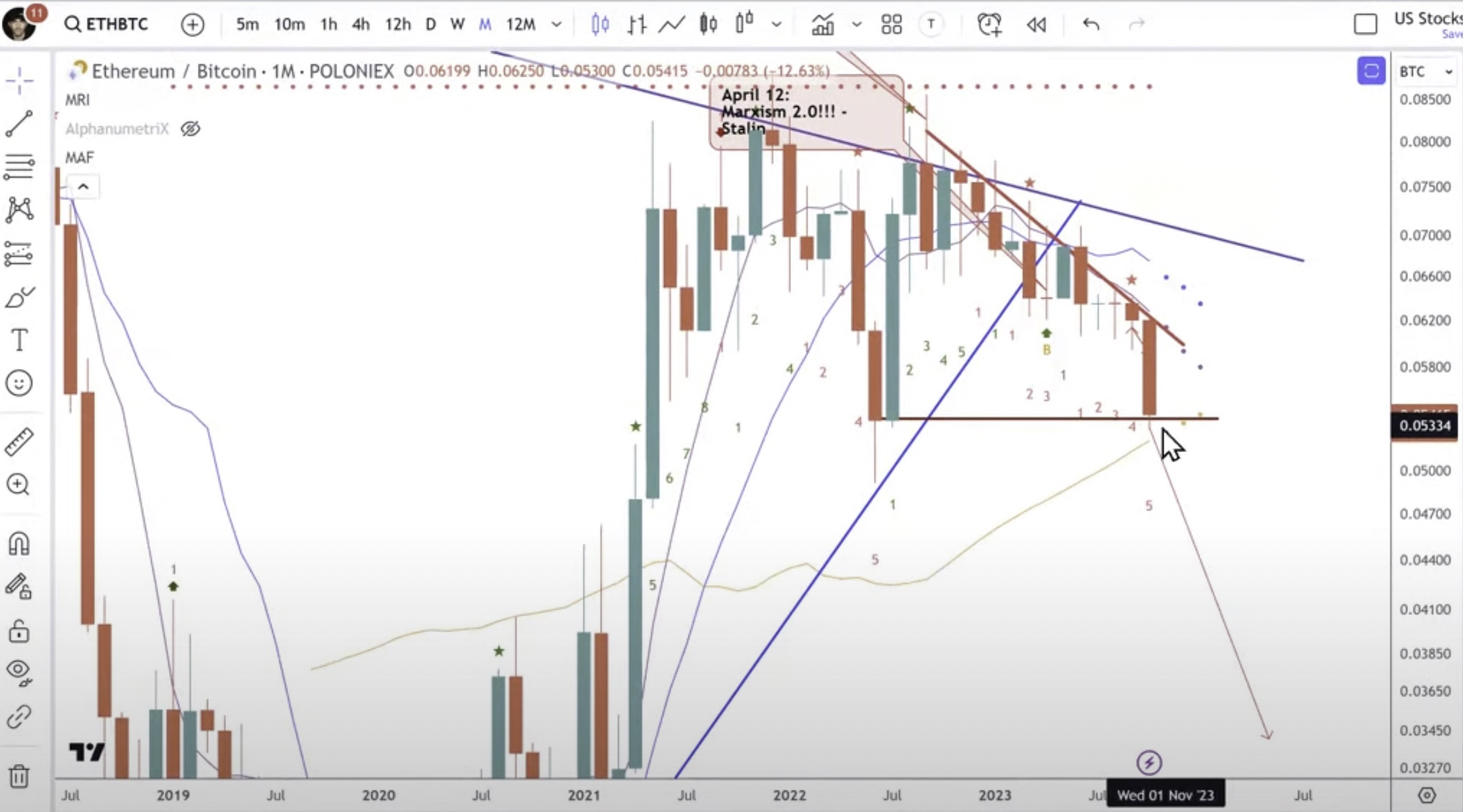 ETH/BTC is trading for 0.0543 BTC ($1,608) at time of writing.
Lastly, the trader predicts that the peer-to-peer payments network Litecoin (LTC) will continue its decline against Bitcoin (LTC/BTC) based on historical price patterns after LTC halving events.
"Litecoin is on its way to an 80% destruction. I've made this very clear many times. Every time Litecoin halves, the price of Litecoin goes down 80%. This happened after the Litecoin halving in 2015, after the Litecoin halving in 2019, and [likely] after the Litecoin halving in 2023…
We're down 30%. We need to go 80%."
Looking at his chart, the trader seems to believe that against Bitcoin, Litecoin will decline to 0.000570 BTC ($16.83).
LTC/BTC is trading for 0.00214 BTC ($63.64) at time of writing.
I
Featured Image: Shutterstock/Vadim Sadovski/Chuenmanuse