Can This New Cryptocurrency Pump like the Bitcoin Price? BTC20 Crypto Presale is Live, Offers Stake to Earn
Bitcoin (BTC) has posted an impressive summer season so far this year, following a stunning +25% pump in mid-June – which has has left price action high in consolidation above $30,000.
With the leading cryptocurrency now trading strong at $30,178 (a 24 hour change of -0.18%), many side-lined investors have begun to wonder whether it is too late to invest.
Bitcoin (BTC) Price Analysis
Indeed, with Bitcoin now in the 26th day of consolidation at current levels – questions are beginning to emerge about whether this price action can be sustained.
Worryingly, over the weekend, Bitcoin price sank back below the critical 20-day moving average.
This could spell disaster for price action on the short-time frame, last time Bitcoin fell short of this level it pushed an 11-day long -9% bleed-out.
If this occurred again, Bitcoin could likely see a return to $27,500 – a seismic drop that would see BTC lose hard-fought territory above $30k in a return to tough resistance at $27.5k.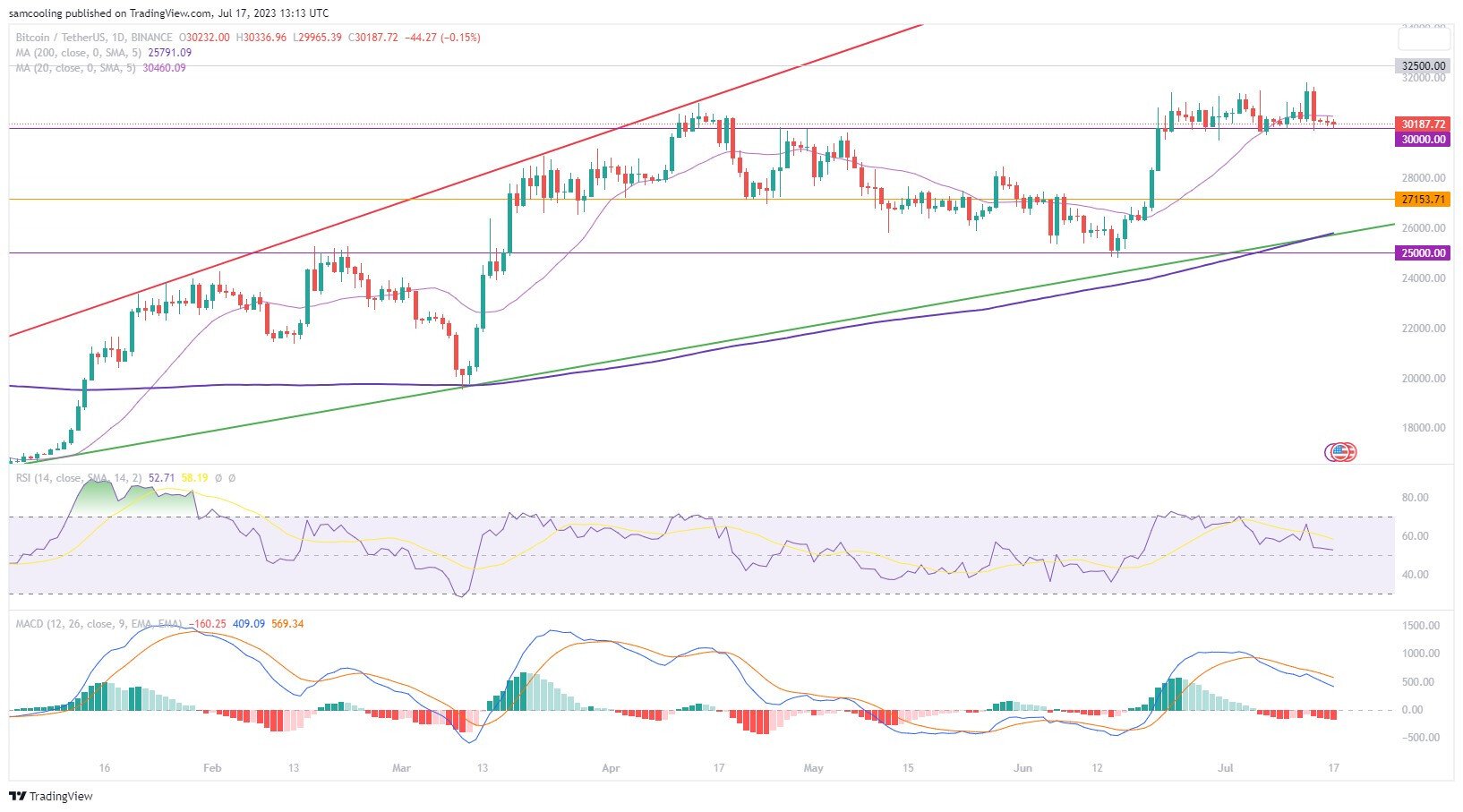 And Bitcoin's indicators provide little reason to be optimistic, with the RSI still overheated at 60 despite 28-days of bearish signalling.
This suggests that consolidation hasn't been sufficient to cool-off the RSI, and suggests a need for retracement.
Worse still, there is additional downside confirmation from the MACD which showcases bearish divergence at -161.66.
However, despite the doom-and-gloom facing BTC price action – the Bitcoin community is excited at the prospect of an emerging new project that could see small investors finally join the ranks of 'wholecoiners'.
A far cry from the boom in over-hyped BRC-20 ordinals earlier this year, meet the next big thing in Bitcoin: BTC20.
Introducing BTC20: The Next Big Thing in Bitcoin
Have you ever wondered what it would be like to own an entire Bitcoin? Sat on the side-lines watching BTC making yet another all-time high, pondering how much you could've made if you'd just been around in the early days?
Your time is now – as the Bitcoin community heralds the start of a new era with BTC20.
BTC20 is Bitcoin, but better… Built to stand the test of time using ERC-20 proof-of-stake technology as its backbone, BTC20 holds the promise of minting an entirely new generation of Bitcoiners with the added promise of a greener network and passive income generation.
BTC20 Will Unleash Next Generation of Sustainable Bitcoin
Indeed, for years now Bitcoin's proof-of-work model has drawn massive criticism due to excessively high energy consumption – powered all too often by dirty power-grids contingent on coal-fired power stations.
This has been a leading issue for Bitcoin globally, cited as the reason Beijing banned Bitcoin mining , in 2021 it was reported that the Bitcoin network was responsible for 113 metric tons of carbon emissions.
An outlandish increase from just 0.9 metric tons in 2016, this problem is only set to get worse as future halving events and increased difficulty rates in future take their toll on miners.
BTC20 is the solution to this challenge, offering a shift to far cleaner and less demanding proof-of-stake blockchain technology for future Bitcoin transactions.
But this is more than just a sustainable solution to Bitcoin's dirty energy problem, BTC20 has become an opportunity to re-imagine the way Bitcoin benefits holders.
Staking Comes to Bitcoin Through BTC20

Holder benefits will be delivered through a novel stake-to-earn mechanism, set to launch in Q4 of this year, offering the promise of double-down rewards for those committed to holding, with rewards issued proportionally to staking quantity.
The staking mechanism will seek to distributed a huge swathe of locked tokens (a minimum of 14.95m unsold in the presale) in a gradual token release set to match the Bitcoin network.
At an alluring presale price of just $1 per BTC20 token, interest is surging as Bitcoiner's race to secure a slice of the 3 million tokens up for grabs in the presale.
Imagine the possible growth, if BTC20 gains even 10% of Bitcoin's market cap (10% = $58bn today) then BTC20 would be worth $2,790 – a 278,900% increase.
With a tokenomic supply mirroring Bitcoin at 21m tokens, and a dedicated team of developers working on a roadmap with a 130 year view – the long-term sustainability of this project could very well outlive the original Bitcoin itself.
BTC20 has already gained traction with leading crypto analysts such as Jacob Bury, testament to the skyrocket traction surrounding the launch of the BTC20 presale.
You can read the BTC20 whitepaper here to familiarise yourself with the next-generation technology underpinning this exciting project.
Don't miss your chance to join the ranks of early Bitcoin backers – become a wholecoiner today.
Disclaimer: Crypto is a high-risk asset class. This article is provided for informational purposes and does not constitute investment advice. You could lose all of your capital.