Bitcoin SV is Going to Zero But Viral Meme Coin Thug Life Just Raised $1.4 Million – Less Than 3 Days Left
The price of Bitcoin SV (BSV) has dropped by 1% in the past 24 hours, with its fall to $39.29 coming as the cryptocurrency market as a whole enjoys a 5.5% gain today.
This drop comes after Ripple received a positive ruling in its case with the SEC, something which has sent most altcoins much higher, but which seems to have dampened the market's appetite for Bitcoin forks such as BSV.
This means that BSV is also down by 7% in a week and by 22% in the last 12 months, with the coin at risk of falling out of favor now that investors feel more confident about buying other alts.
And it's not only major altcoins that BSV has to worry about, with a number of new presale tokens emerging in recent weeks to offer higher gains, with Thug Life Token (THUG) being one of the most promising.
Bitcoin SV is Going to Zero But Viral Meme Coin Thug Life Just Raised $1.4 Million – Less Than 3 Days Left
BSV's chart suggests that the cryptocurrency may have further losses in store, with its relative strength index (purple) dipping from 50 to 40 in the past couple of days, indicating a loss of momentum.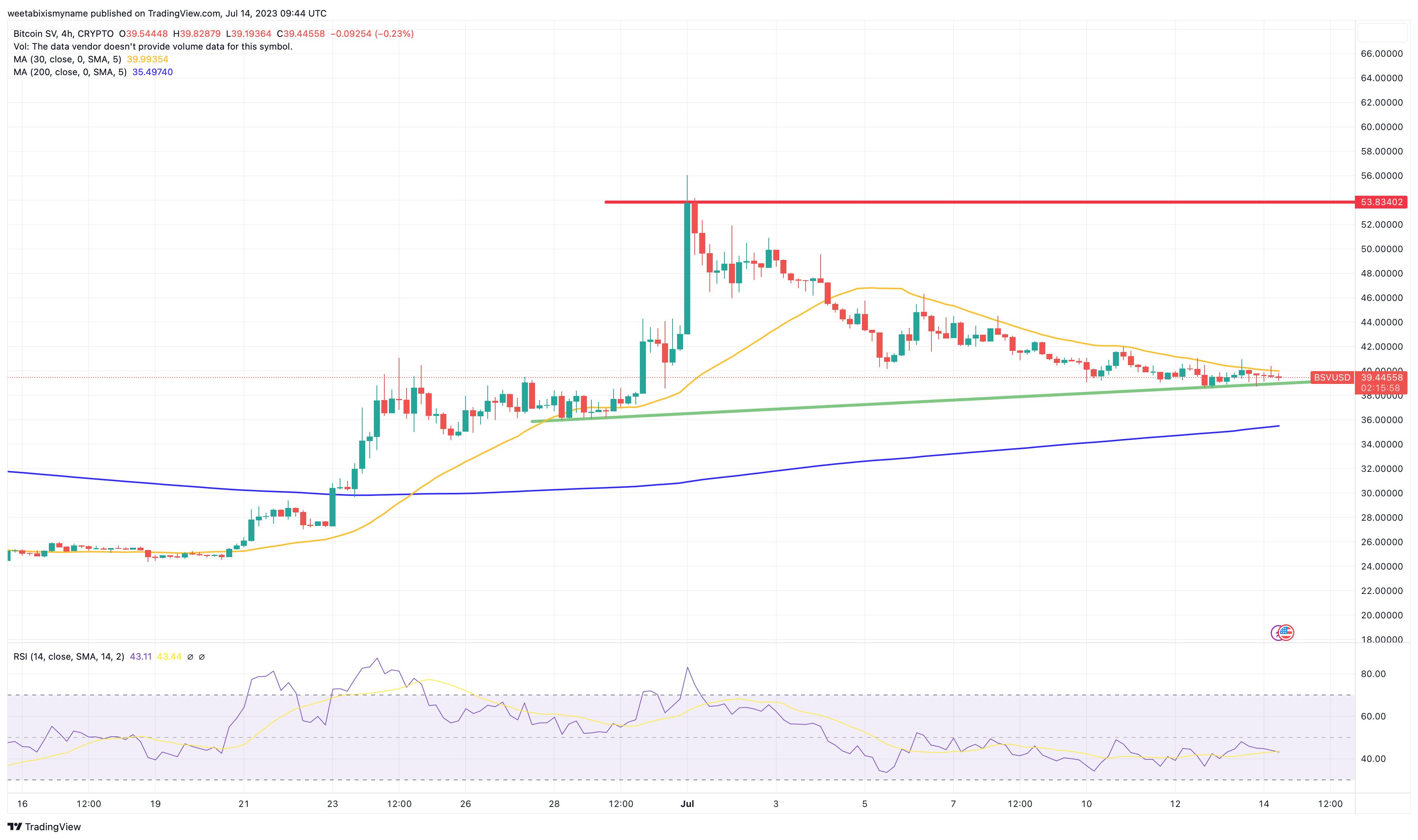 Source: TradingView
The coin's 30-day moving average (yellow) is also sliding down consistently and looks as though it will soon drop below its 200-day average (blue), a move that tends to signal further substantial losses.
BSV had been performing positively in the wake of the SEC's legal actions against Binance and Coinbase, in which the regulator labeled a number of tokens – but not BSV (and other Bitcoin forks) – as securities.
However, with Ripple's case against the SEC concluding with the presiding judge concluding that XRP is not in itself a security, altcoins such as Solana, Avalance, Cardano and numerous others have rallied big.
This has taken the shine out of BSV (as well as out of Litecoin and Bitcoin Cash), and it's entirely arguable that the coin may see a consistent decline over the next few weeks or months.
Fortunately, there are other smaller-cap altcoins right now that show real potential for big rallies in the near future, with the best presale tokens – which can rise strongly after listing – looking particularly promising.
This includes Thug Life Token (THUG), a new meme coin that has impressively raised $1.5 million in its presale, which has only three days left to go.
Running on the Ethereum blockchain, THUG has been steadily building an online community for itself after aligning itself with the gangsta rap and hip-hop communities, from which it draws its memes and stylings.
THUG is due to list after the conclusion of its presale, which has been allocated 70% of the coin's overall supply (4.20 billion), a move which will help make it appreciably decentralized.
This highly distributed allocation will also help make THUG's community feel more invested in the token, which in turn will make them more willing to support it and attract new followers.
This is why THUG is more promising than 99% of the junk meme tokens that have been listed on DEXes this year, with a community vital if a meme coin is to survive.
To join THUG's presale and its community, interested investors can visit the official Thug Life Token website and connect their crypto wallets.
1 THUG costs $0.0007, although this price is likely to be surpassed when THUG lists on exchanges in the next week or so.
Disclaimer: Crypto is a high-risk asset class. This article is provided for informational purposes and does not constitute investment advice. You could lose all of your capital.