Whales and HODLers Dominate as 70% of Bitcoin Hasn't Moved in Five Months
October 14, 2021, 10:45 AM AEST - 3 months ago
Since Bitcoin's correction from April's all-time high, most investors have turned strong hands. According to Glassnode, about 70 percent of Bitcoin's total supply hasn't moved in the past 155 days (or five months), meaning the majority of BTC supply is held by long-term holders.
On this note, there should be less selling pressure on bitcoin, given most inventors are positive about the future price.
HODLers Are Accumulating 12.7x More BTC Than Mined
What's more interesting is the rate at which long-term holders have been accumulating BTC in recent months. HODLers' supply reportedly grew from 10.91 million BTC to about 13.3 million BTC within a space of seven months. That is a differential of 2.37 million BTC, which is greater than the 186,000 new Bitcoin mined within that period.
This signifies that, on average, long-term holders are accumulating 13x BTC than the total amount of BTC mined in a day, hence the drop in BTC balance on all exchanges. Recent data from Glassnode shows all Bitcoin exchange balances at 2,450,952.419 BTC, the lowest level in three years.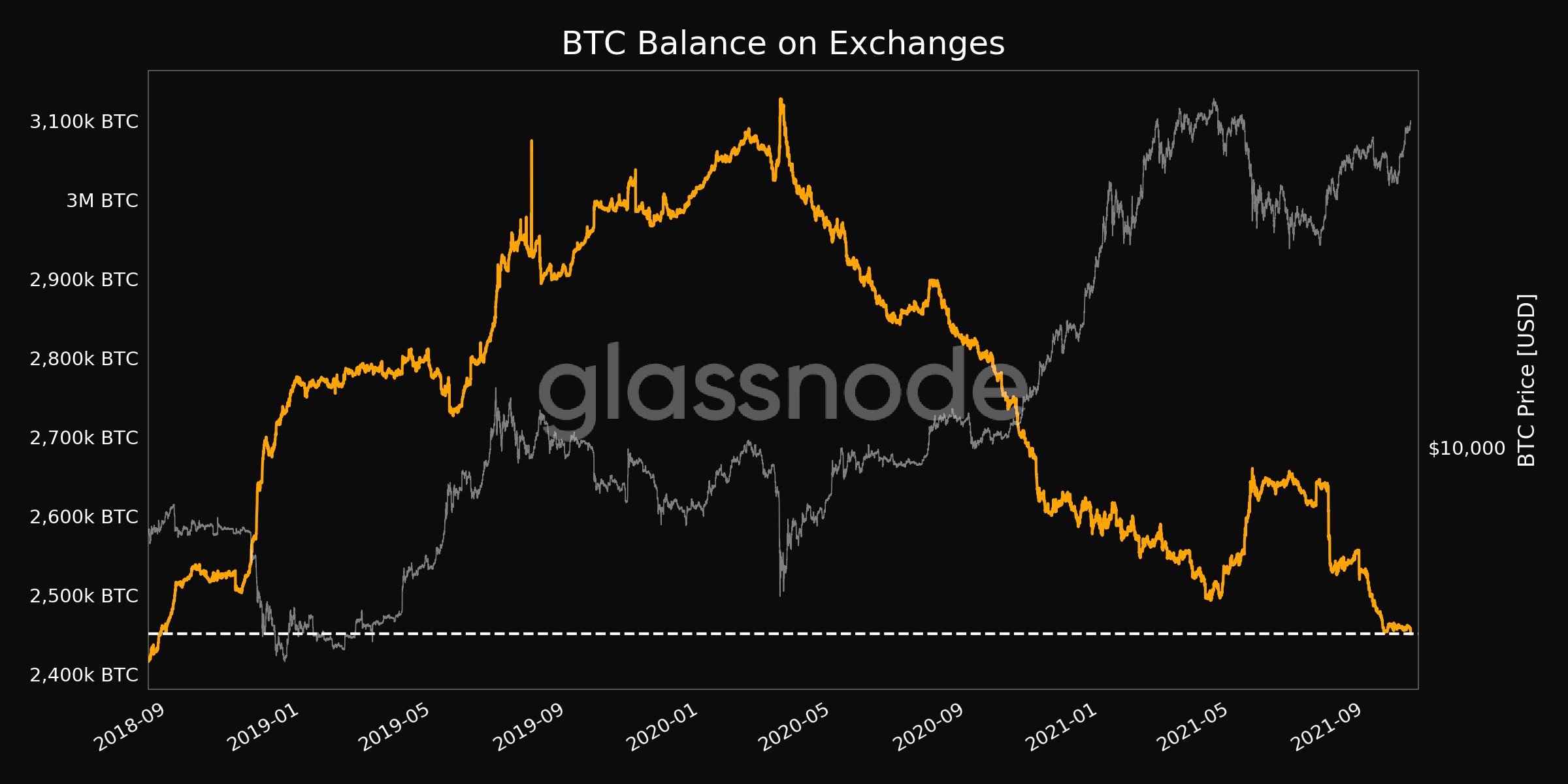 What's Next for Bitcoin?
On-chain metrics are painting a bullish picture for Bitcoin. At the time of writing, BTC was trading at US$57,001 with a market capitalisation of US$1.19 trillion. Judging by the metrics, it's easy to forecast BTC could break out anytime to US$60,000 and higher as the accumulation wave gets stronger.
Already, there are traces of whales in the market. In two weeks, BTC addresses with 100 to 1,000 BTC accumulated over 85.7k bitcoin, equivalent to US$4.8 billion at today's price. The appetite for bitcoin is getting stronger, and it's creating a supply squeeze that is bullish in the long term.
Disclaimer: The content and views expressed in the articles are those of the original authors own and are not necessarily the views of Crypto News. We do actively check all our content for accuracy to help protect our readers. This article content and links to external third-parties is included for information and entertainment purposes. It is not financial advice. Please do your own research before participating.