Why Ethereums growth of ERC-20 tokens matters
Saturday 17 October 2020, 4:44 AM AEST - 1 week ago
As an altcoin, Ethereum has been the leader in terms of its growth observed this year. The evolution of ERC-20 tokens along with the decentralized platform established on Ethereum were vital contributors to Ethereums performance. Although the beginning of the final quarter of 2020 did portray as though DeFi was dead, but that seems to have been just a hiccup.
ERC-20 and ETH
Ethereum ecosystem has expanded with novel use cases and products that have been garnering the attention of the users. The list of ERC-20 tokens on the network has also expanded and currently, there were 313,006 ERC-20 tokens and the prominent ones being Tether [USDT] on Ethereum, Binance coin [BNB], Chainlink [LINK], Crypto.com [CRO], and USD coin [USDC].
OKExs OKB token was in the sixth position, however, given the OKEx stopping withdrawals for all crypto, the coin has been witnessing a drawback.
Source: Etherscan
With growing numbers of ERC-20 tokens, the market cap of the tokens reached parity with Ethereums market for the first time, noted Messaris Ryan Watkins a couple of months back. This trend continued and now the market cap of the ERC-20 token surpassed the market cap of ETH by a significant margin.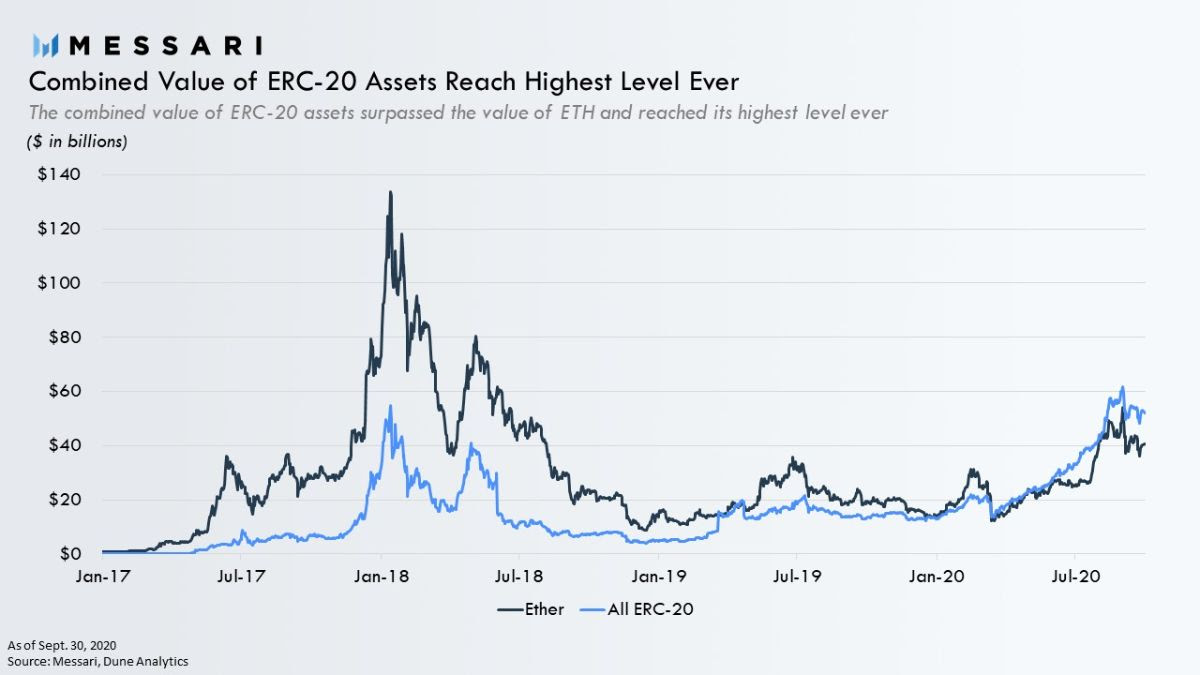 Source: Messari
Data from Watkins research suggested that 56% of the value stores on Ethereum now incentivized economic activity beyond the maintenance and execution of the ETH blockchain.
Disclaimer: The views expressed in the articles are those of the contributors or partners who contract with the editors and publishers and are not the view of the editor and publishers