When Might XRP Holders Receive DFLR Tokens from Flare Finance DeFi? Roadmap Revealed
Friday 22 January 2021, 12:15 AM AEST - 1 month ago
Cover image via stock.adobe.com
Flare Community, an audience-driven Twitter account focused on the Flare blockchain ecosystem, shares the roadmap of the Flare Finance token (DFLR) airdrop. It seems that DFLR will enter XRP soldiers' pockets before FLR does. What do tokenholders need to be eligible for DFLR distribution?
100 percent DFLR come after 15 percent FLR
According to the explanatory thread and infographics, Flare Finance, a pioneering DeFi environment for Flare blockchain, is going to airdrop its DFLR tokens once Flare goes live. Meanwhile, this massive airdrop will be organized in a different manner from Spark (FLR) airdrop for XRP holders.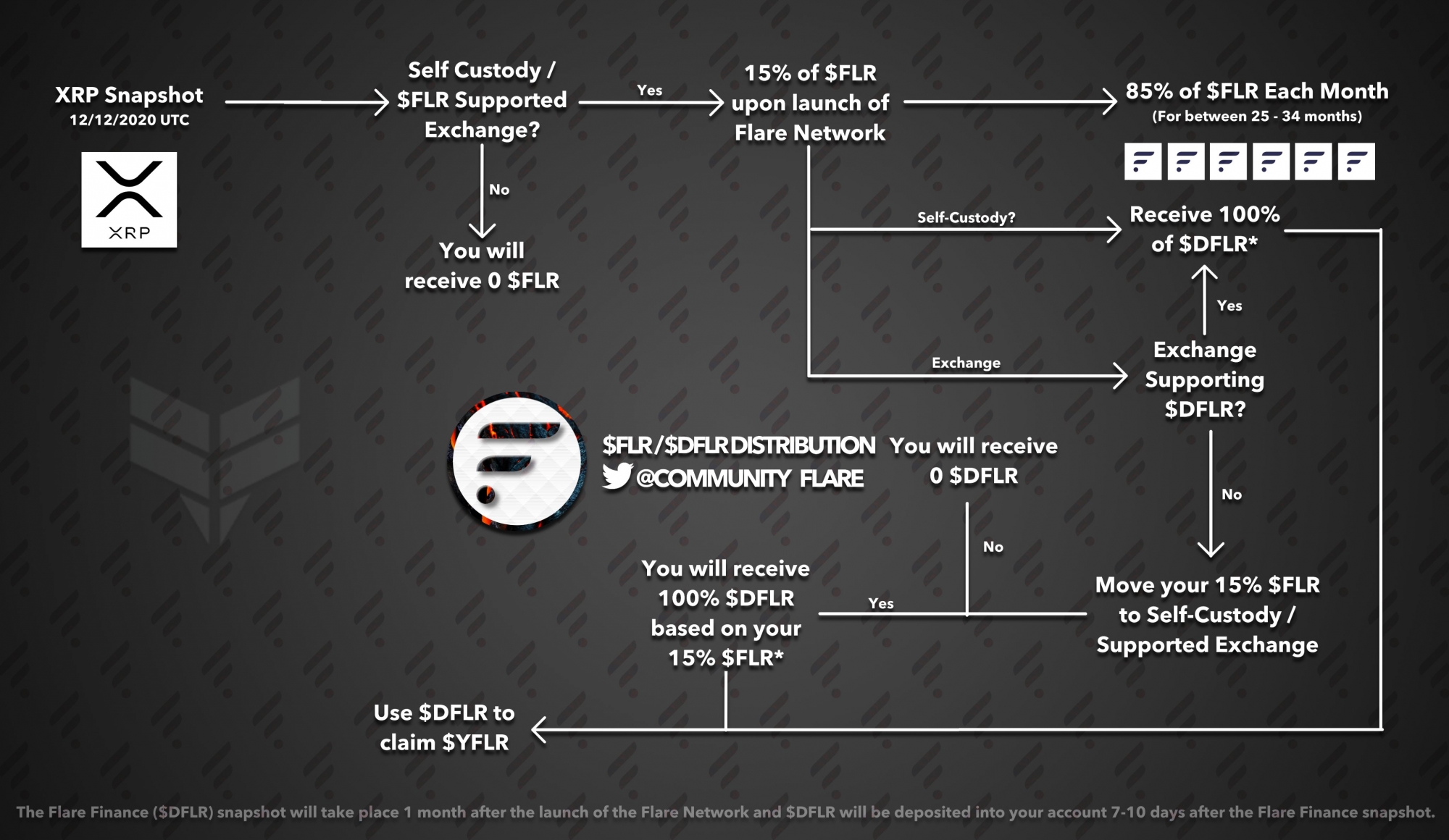 Image via Twitter
To calculate the amount of DFLR required for the airdrop, Flare Finance will take the snapshot of FLR balances a month after Flare blockchain begins operations. Then, the user will recieve 15 percent of its FLR stake, which was calculated 1:1 to the XRP balance as of Dec. 12, 2020, and the full entirety of the DFLR stake.
Flare Networks will be disseminating the remaining 85 percent of FLR tokens within 24-36 months after the Flare launch. At the same time, DFLR holders will be able to exchange them on YFLR tokens.
In turn, YFLR tokens will act as the core digital assets of all decentralized financial instruments under the Flare Finance umbrella. Thus, Flare Finance is laser-focused on the adoption of its solutions in the Flare community.
Which DeFi services will be avaliable on Flare?
As covered by U.Today previously, Flare Networks is going to launch its blockchain as soon as May 2021. This date was confirmed recently by CEO Hugo Philion. Flare waill be a programmatic blockchain that marries XRP remittances instruments with smart contracts.
Flare Finance is going to release a one-stop DeFi ecosystem based on the Flare blockchain. It will include FlareX (decentralized exchange), FlareWrap (token minting instrument), FlareLoan lending/borrowing service and Flare Farm "yield farming" module.
Also, FlareMine will reward Bitcoin (BTC) and Ethereum (ETH) miners with speci ...
Disclaimer: The content and views expressed in the articles are those of the original authors own and are not necessarily the views of Crypto News. We do actively check all our content for accuracy to help protect our readers. This article content and links to external third-parties is included for information and entertainment purposes. It is not financial advice. Please do your own research before participating.