Vitalik Responds to Accusations of Stealing Most of Ether, Shows His Crypto Balance
An economist of NYU and an opponent of crypto Nouriel Roubini, famous by predicting the financial crisis in 2008 and called Dr. Doom, recently started a heated argument in Twitter with Vitalik Buterin. The economist accused Vitalik and Joe Lublin of expropriating 75 percent of ETH in pre-mining.
I never personally held more than ~0.9% of all ETH, and my net worth never came close to $1b. Also, I'm pretty sure there are no criminal laws against pre-mining.
Following the request to reveal his ETH balance, Vitalik did so by providing an EtherScan page. At a close examination, one can see that Vitalik is in possession of slightly over 365,000 ETH coins (worth around $74 mln) and also holds OmiseGo tokens of around $100,000 worth. The address Buterin provided shows his biggest trades. As for other address he has, Vitalik stated that they are small and chose not to disclose them.
The disclosure of his major address provoked a positive feedback from the community.
https://t.co/yLfy39gwB5

Though that doesn't just include sales, it also includes some gifts and charity donations.
— Vitalik Non-giver of Ether (@VitalikButerin) October 10, 2018
Vitalik Buterin Has No Plans to Quit Ethereum Anytime Soon, Should He?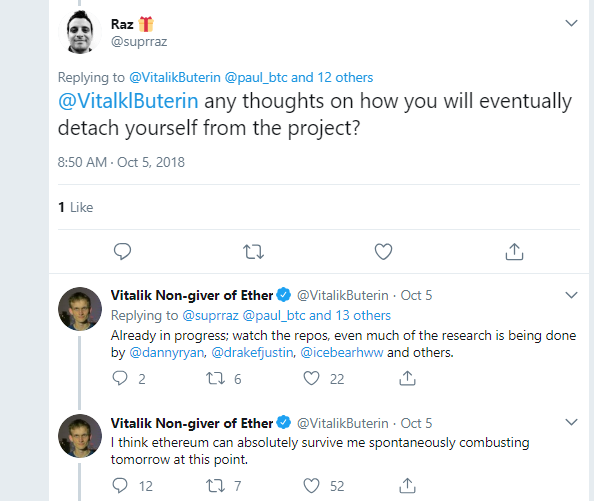 Read full story on u.today