The Rise Of Decentralized Exchanges May Disrupt The Financial Status Quo
Wednesday 09 September 2020, 11:54 PM AEST - 1 month ago
Exchanges News
Uniswap Dominating Coinbase Is Another Reason To Believe That Decentralized Exchanges Are Taking Over
Uniswap, dubbed as one of the leading decentralized exchanges, recently surpassed Coinbase Pro in daily trading volumes, reaching levels of nearly $1 billion, as of 1st September 2020.
Despite Coinbase Pro not being the largest centralized exchange, this is a clear signal that DEX exchanges are quickly catching up the well-established centralized crypto exchanges.
Uniswap is working both as a decentralized exchange and an automated liquidity protocol. Users that visit their platform are enabled to purchase and sell ERC-20-based tokens and earn exchange fees for providing liquidity.
The mechanism behind Uniswap means that the bigger the trading activity, the bigger the reward for liquidity providers. This explains why Uniswap has increased both in trading volumes and popularity in recent months. The total value locked (TVL) in Uniswap reached a price point of $1.47 billion as of press time, according to data from DeFi Pulse.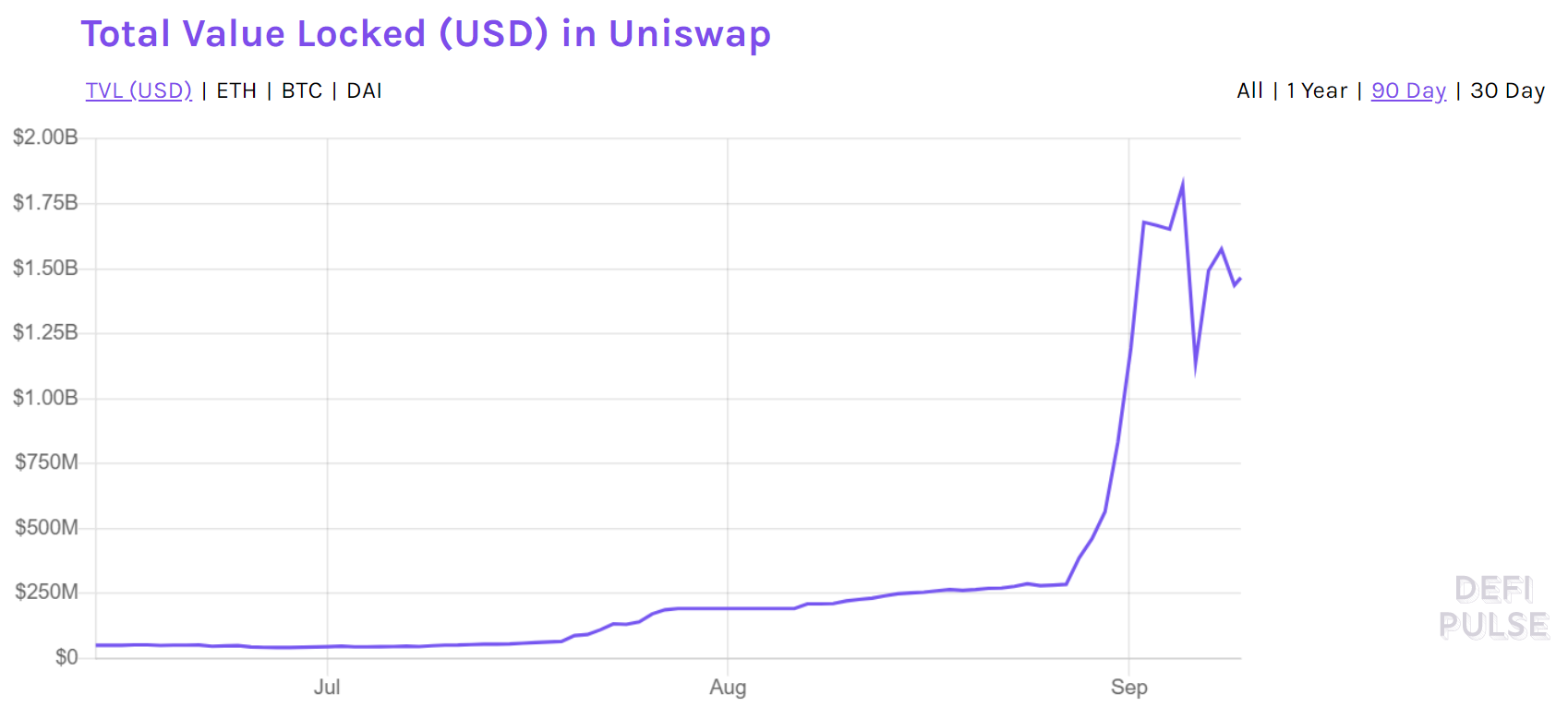 Source: Defi Pulse
However, decentralized exchanges existed before the DeFi boom, but traders referred to traditional centralized exchanges for the sake of convenience. The DeFi sector quickly advanced in the technology realm, making DEX as sophisticated and easy to use as centralized exchanges.
Meanwhile, the DeFi sector saw the rise of many exchanges, with different implementations and different operating networks underneath them. Uniswap, for example, emphasizes on ERC-20 tokens, while Curve focuses on stablecoins. And despite that Uniswap and Curve have become among the most popular DeFi options, protocols like 0x and EtherDelta laid the foundations behind decentralized exchanging.
However, the rapid boom of decentralized exchanging also leads to various problems, the biggest being the lack of liquidity, despite the recent month saw a massive increase in liquidity provision. Ilya Abugov from DappRadar stated that exchanges have to maintain liquidity:
Read full story on CryptoBrowser
Disclaimer: The content and views expressed in the articles are those of the original authors and are not the views of the editor and publishers of Crypto News.