Simplex and Bitrue Integrate with Gala Games, Linking Blockchain and Mainstream Gaming
Thursday 17 September 2020, 4:17 AM AEST - 1 week ago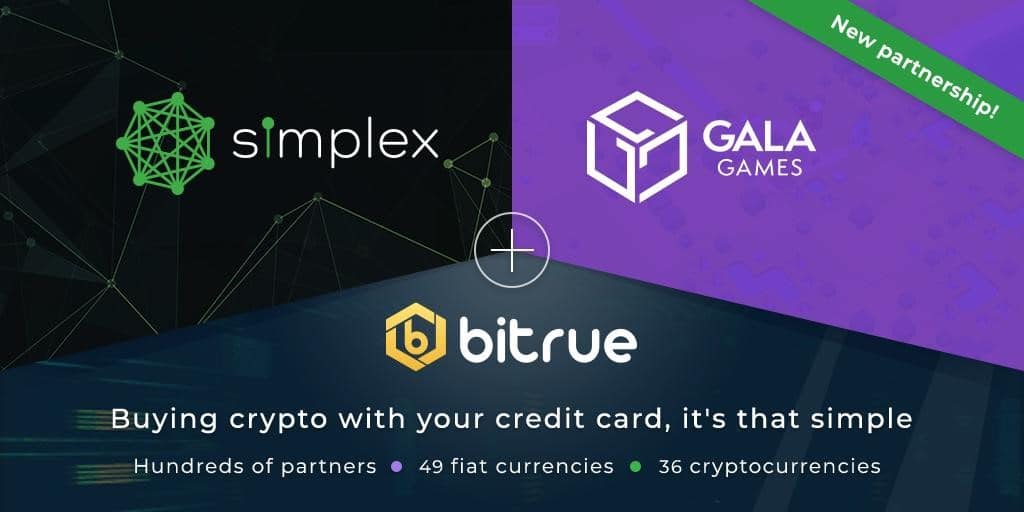 Photo: Simplex
Simplex, the leading fiat infrastructure for crypto onramps, today announced support for the purchase of the GALA token. The new ERC-20 token can be traded inside the blockchain game Townstar, co-developed by one of the founders of Zynga, Eric Schiermeyer. Townstars launch is a revolutionary milestone in bringing together the power of blockchain technology and accessibility of casual games, which opens the ecosystem to over 2.4 billion gamers worldwide, through the Simplex fiat onramp infrastructure.
The purchase of GALA will be supported through Simplexs partnership with the digital asset management platform, Bitrue. This partnership will give more people the opportunity to have a swift onramp to GALA, which was previously only utilized as a reward for the operation of the Gala Games Soft Node. In addition to the introduction of a fiat payment gateway, GALA token will be made available for trading via Bitrue, providing broad exposure to Gala Games from the existing crypto and blockchain communities.
As the pioneering provider of global, riskless fiat rails for the cryptocurrency market, Simplex is taking digital asset adoption to the next level by facilitating GALAs link between blockchain and mainstream games. GALAs integration with Simplex brings a fiat pipeline to the world of on-chain gaming, making it easier for players to engage and for blockchain newcomers to be onboarded. Collaboration with Gala Games marks the first time that Simplex, whose partners include major exchanges, wallets, and brokers, has integrated with a blockchain game.
Eric Schiermeyer, co-founder of Gala Games, said:
It is our hope that with Bitrue and Simplex, we will be able to make blockchain gaming more accessible to more people. One of the challenges confronting blockchain projects is the fact that the global blockchain community is small. By opening up onramps through more conventional means of financing, we make it possible for over 2.4 billion active gamers worldwide to participate in this growing ecosystem.
Co-founder and CEO of Simplex, Nimrod Lehavi, stated:
Were excited to announce our partnership with GALA, who are leading the way in connecting crypto and casual games. Casual games are an innovative application that will open up the ecosystem to many new users. Simplex is thrilled to work a ...