Sellers allow homebuyers to pay in Bitcoin but experts warn of 'highly volatile' currency
Thursday 27 May 2021, 7:53 AM AEST - 2 weeks ago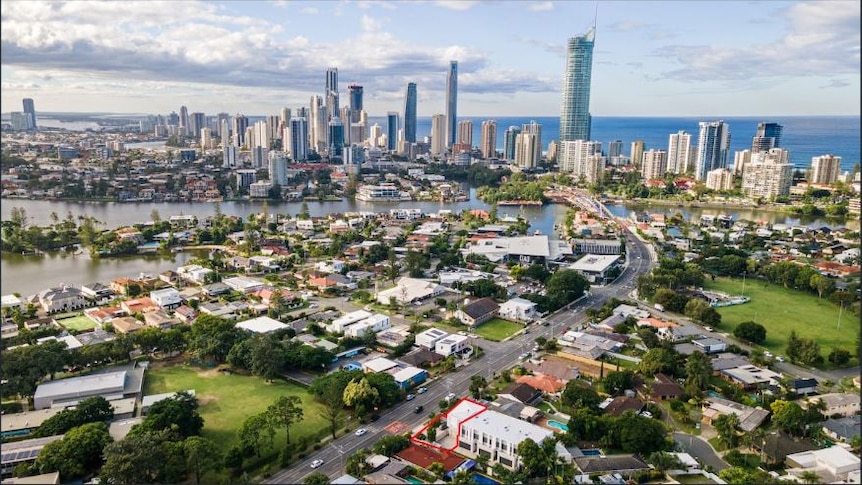 Properties listed for sale on the Gold Coast are accepting cryptocurrencies as payment. (Supplied: Lucent Property Agents)
Queensland's peak real estate body says vendors need to think carefully about accepting cryptocurrencies as payment for the sale of their homes.
The owners of at least two Gold Coast properties currently listed for sale will allow buyers to pay with digital currencies, like Bitcoin.
The Real Estate Institute of Queensland (REIQ) said cryptocurrencies were approved for use in Australia.
But corporate affairs manager Olivier Bjorksater-Bleyock advised vendors and potential buyers to be cautious.
"When it comes to using cryptocurrencies, such as Bitcoin for real estate, it can become a little tricky because of the high volatility," Mr Bjorksater-Bleylock said.
"That means that its price can change daily, in quite extreme circumstances, sometimes in excess of $10,000 per day.
"So to actually assign an actual price in Bitcoin, or any other cryptocurrency to a property, can be quite difficult.
"It means then you'd have to negotiate that price in a very short period of time."
Swimmer to trade house for Bitcoin
Gold Coast real estate agent Josh Longhitano is selling a four-bedroom villa at Isle of Capri with a price guide of $1.5 million.
Mr Longhitano said the vendor, Olympic swimmer Cam McEvoy, will trade the house for Bitcoin.
Olympic swimmer Cam McEvoy is selling his Gol Coast home and will accept cryptocurrency as payment.(
Facebook: Gold Coast 2018 Commonwealth Games
)
The 27-year-old bought the house in 2016 for $1.1 million.
Mr Longhitano said he had strong interest from potential buyers and was currently negotiating with a crypto company.
"We'd love to sell it through crypto, 100 per cent," Mr Longhitano said.
"If someone comes along with a cash deal we will accept it, or a finance deal, we will accept it.
"But we're just giving more options.
"If a buyer's got plenty of Bitcoin, and they're just not cash rich, or asset rich, well, then we're giving them the option that they can diversify their portfolio into these assets."
The property at 1/40 Via Rom ...
Disclaimer: The content and views expressed in the articles are those of the original authors own and are not necessarily the views of Crypto News. We do actively check all our content for accuracy to help protect our readers. This article content and links to external third-parties is included for information and entertainment purposes. It is not financial advice. Please do your own research before participating.