S&P Futures, Yuan Tumble; Dollar Surges As US-China Turns Ugly
S&P futures and global equities fell on Monday after their worst week of 2019, as hopes of an imminent U.S.-China trade deal were crushed with sentiment souring significantly over the weekend, as neither side showed a willingness to budge, raising fears of a fresh round of tit-for-tat tariffs. The dollar surged, the yuan tumbled and Treasuries rallied as traders walked in to the following sea of red.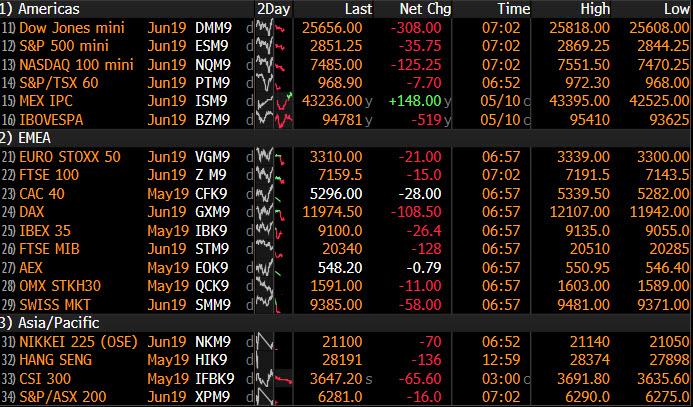 With the barbs now coming fast and furious as Trump tweets out a new provocation to Beijing literally every several minutes, most recently warning that "China should not retaliate-will only get worse!" while China said that it will "never surrender" to external pressure, though stopped short of announcing how Beijing will retaliate to the latest round of US tariffs, the US and China appeared at a deadlock over trade negotiations as Washington demanded promises of concrete changes to Chinese law and Beijing said it would not swallow any bitter fruit that harmed its interests.
Looks like we are just slowly ebbing away. More tweets from Trump over the weekend stoking the fires for a trade war, said John Woolfitt at London-based Atlantic Markets.
As a result, contracts on the S&P 500 slid 1.3%, erasing much of Friday's miraculous rebound, and pointing to a big drop at the U.S. open.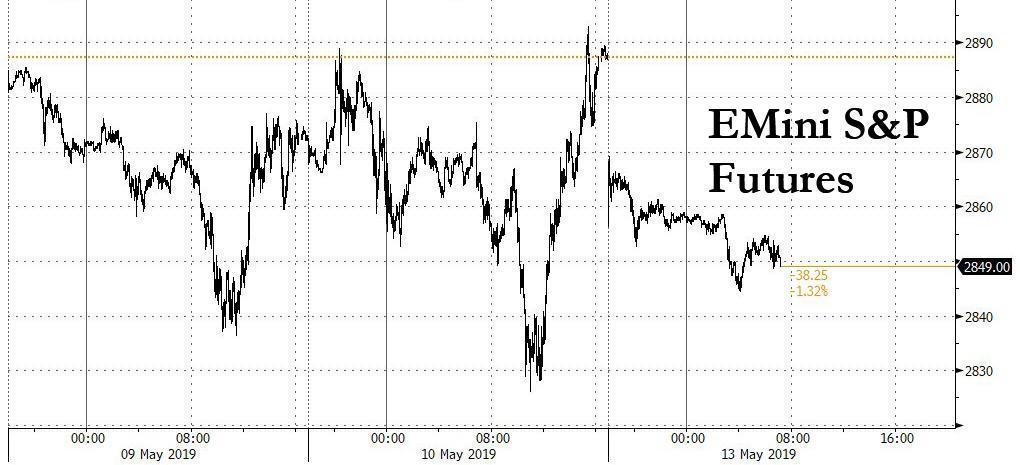 In Europe, the Stoxx Europe 600 index quickly slumped negative as almost every industry sector retreated. With no date scheduled for a resumption in bilateral Sino-U.S. talks, shares dropped in all principal Asian markets except Hong Kong, which was closed for a holiday.
Earlier Asian stocks also dropped sharply as Chinese shares tumbled, with the benchmark Shanghai Composite and the blue-chip CSI 300 shedding 1.2% and 1.8%, respectively, while Hong Kongs financial markets were closed for a holiday. Japans Nikkei average sank as much as 1.0% to hit its lowest level since March 28, before closing down 0.7%.
The trade war hit emerging market stocks, which were down 0.7 percent, hovering near January lows. JPMorgan said it had reduced its emerging markets risk for the second time in as many months on Monday following the set-back in U.S-China trade talks.
How far this escalates is what the market is really worried about as we havent really got full details of what the U.S. will do and how China will retaliate. The important thing is whats the impact on growth, and thats what the market is really fearing, said Justin Oneukwusi, portfolio manager at Legal & General Investment Management.
The risk of a full-blown trade war has materially increased, even though both sides seem to still want a trade deal and talks are expected to continue, UBS economist Tao Wang said.
Making matters worse, on Monday Washington is expected to announce it is raising tariffs on all remaining imports from China, worth approximately $300 billion. ...
Read full story on Zero Hedge