Long-Term Signal for Ethereum Flips Bullish: Heres Why It May Not Pan Out
Sunday 3 May 2020, 3:18 PM AEST - 1 month ago
Although Ethereum is still over 80% below its all-time high price, the asset has registered extremely positive price action over recent months.
From the March capitulation lows of $88, the asset is up over 175%. And in the past day alone, ETH is up 10%, outperforming basically all other cryptocurrencies in circulation.
The recent uptrend has allowed Ethereum to print an extremely positive sign, according to a prominent crypto trader.
He noted in the chart below that on Kraken, the Moving Average Convergence Divergence (MACD) on the one-month Ethereum chart has crossed bullish for the first time ever:
Monthly MACD finally crossed bullishly… and moving up across the zero line, the analyst wrote in reference to the chart below.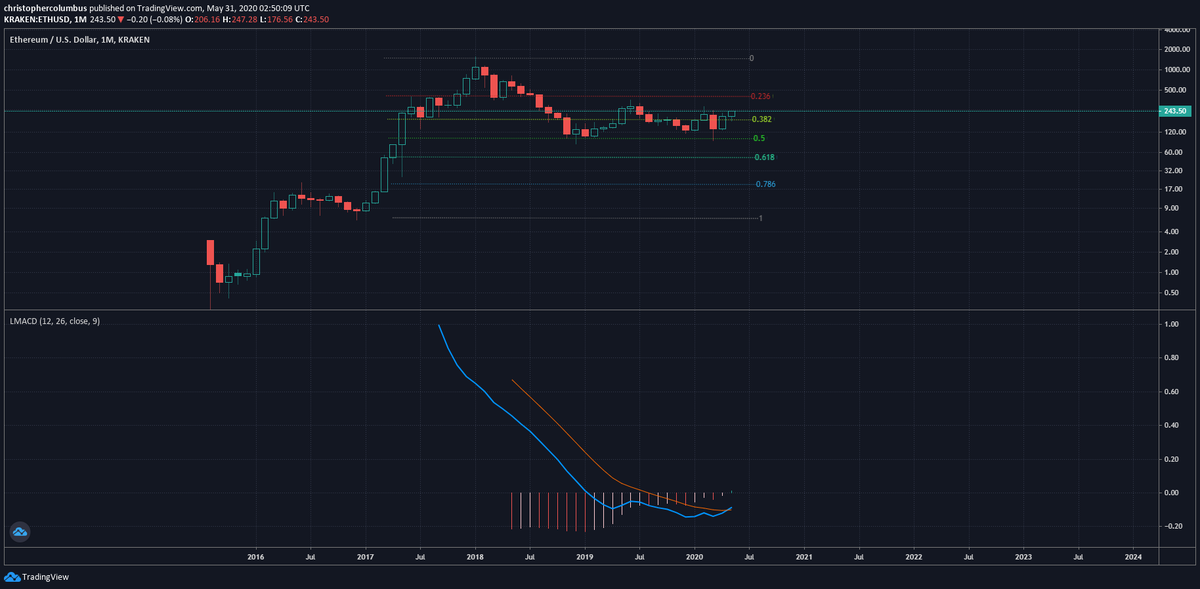 Chart of Krakens Ethereum market from analyst Dave the Wave. The chart shows that ETHs long-term MACD has flipped bullish for the first time ever.
The MACD is designed to reveal changes in the strength, direction, momentum, and duration of a trend in a stocks price, according to Wikipedia.
Ethereum Rally May Not Last, Analysts Say
Despite this textbook bullish sign, prominent analysts are not convinced that Ethereum may not rally sustainably due to fundamental factors.
Per previous reports from Bitcoinist, crypto-asset trading platforms are holding more Ethereum in aggregate than ever before. Addresses owned by the platforms like Bitfinex and Binance now hold ~18,000,000 ETH, around 15% of the total supply of the crypto asset.
A prominent crypto data analyst remarked that this is likely to be a bearish sign for the cryptocurrency:
ETH balances are basically at all-time highs, and are up 132k ETH (~26M) since Black Thursday… My interpretation here is that its bullish for btc/bearish eth, the analyst opined through a Twitter thread that was about cryptocurrencies that exchange wallets hold.