Long-Term Bitcoin Outlook Is Super-Bullish, Says Analyst Who Called 2019 Bottom
Sunday 11 May 2020, 11:15 AM AEST - 1 month ago
Bitcoin remains far below the $20,000 all-time high it established at the end of 2017s crypto mania. But this hasnt stopped investors from being extremely optimistic about the cryptocurrency.
One prominent analyst recently said that the asset is looking super bullish from a long-term perspective.
His comments are especially notable as he is an analyst that has nailed the directionality of this market over the past year.
In the middle of 2019, when BTC was surging past key resistances above $10,000, he called for a retracement to $6,400. He predicted that move correctly, nailing the bottom of the trend down to dollars.
Earlier this year, the analyst suggested that the asset would rally to $11,000 before reversing towards the $8,000s and maybe even lower. This, too, was correct.
Long-Term Outlook for Bitcoin Is Super Bullish
The analyst in question is Dave the Wave.
He noted recently that the Moving Average Convergence Divergence (MACD) indicator for Bitcoins weekly chart is well situated for the cyclical move up that will bring the asset to new heights in the long run.
Other indicators corroborate this.
Blockchain analytics firm Glassnode recently noted that approximately 60% of all BTC in circulation hasnt moved in over a year, showing increased investor HODLing behavior.
The last time this much of BTC (percentage-wise) was frozen was right before the BTC bull market of 2017, prior to the 2,000% rally that took Bitcoin from $1,000 to $20,000.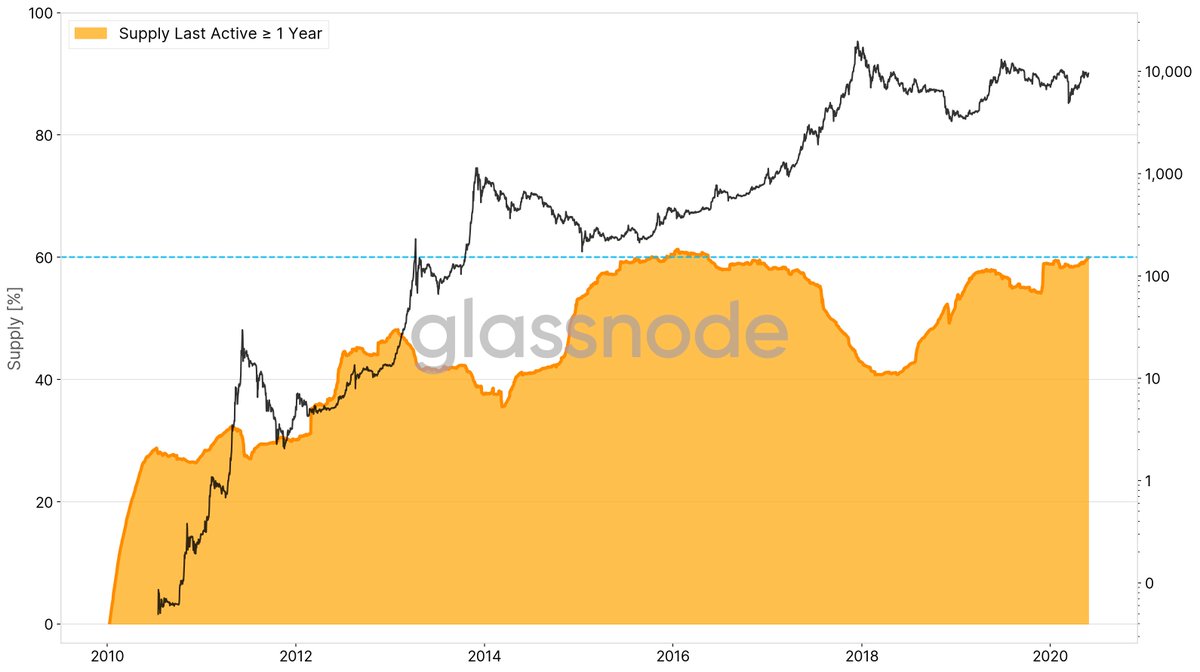 Chart of Bitcoin investor habits from crypto analytics firm Glassnode (@Glassnode on Twitter). The image was shared on May 29th, 2020.There Could Be a Short-Term Drop
While Dave the Wave sees a bright future ahead for Bitcoin, he does believe that the asset could be subject to correcting lower in the near term.
He shared the chart below on May 28th, opining that BTC remains in a textbook descending triangle similar to the one seen at the peak of the market in 2019s bull market.
The descending ...