Futures Soar Just Shy Of Record Highs As Meltup Returns Ahead Of Powell Hearing
Tuesday 01 December 2020, 11:52 PM AEST - 1 month ago
S&P futures and global stocks started the last month of the year on a euphoric note, rallying to just below all time highs following a freak one-day selloff (perhaps on pension-rebalance selling) to close November after robust China data boosted expectations of a recovery from the COVID-19 downturn and as drugmakers seek fast approval for their vaccines and authorities look set to keep stimulus support.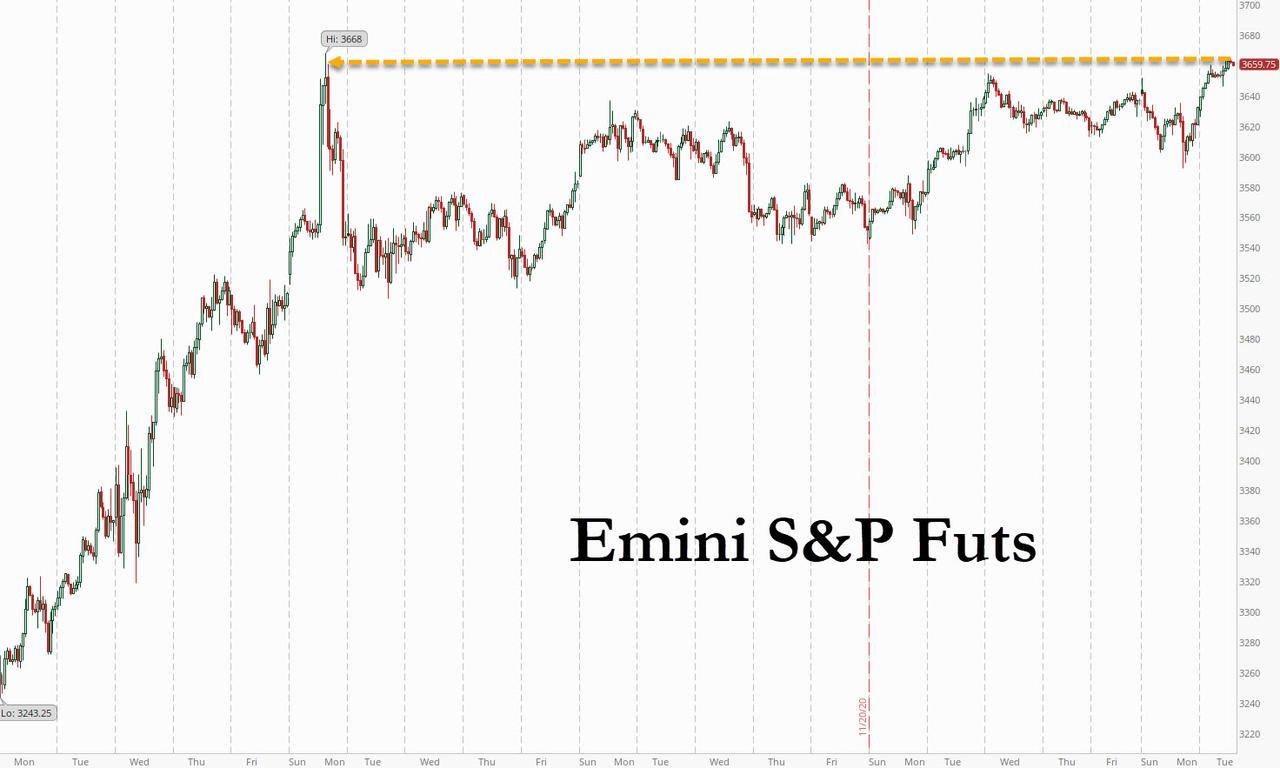 E-mini futures jumped 1%, more than reversing all of Monday's losses while the MSCI world equity index was up 0.4%. News that Tesla would be added to the S&P500 all in one move on Dec 21 propelled the stock to new record highs above $600 and boosted the broader Nasdaq. Meanwhile work from Home darling Zoom dropped despite reporting stellar results and guiding higher than forecast.
The risk-on mood carried across other markets. Bitcoin was on the verge of $20,000 before it was hit with a sharp selloff, while futures on the Russell 2000 Index outperformed the tech-heavy Nasdaq 100 Index. Breakthroughs in vaccine developments from Pfizer, Moderna and AstraZeneca last month along with news that Janet Yellen would head the Treasury helped the world equity index surge the most on record, up 12% to new all-time peaks.
On Monday, Moderna applied for U.S. emergency authorization for its COVID-19 vaccine after full results from a late-stage study showed it was 94.1% effective with no serious safety concerns, while in the latest vaccine news, this morning Pfizer and partner BioNTech sought regulatory clearance for their Covid-19 vaccine in the European Union, putting the shot on track for potential approval there before the end of the year.
"We believe the rally can continue, with the current pipeline of expected vaccine rollouts in line with our central scenario of widespread availability in the second quarter of 2021," said Mark Haefele, Chief Investment Officer at UBS Global Wealth Management in Zurich. We also believe that a divided U.S. government - which looks the most likely outcome - is no impediment to a rising market."
Europe's Stoxx 600 Index was 0.7% hig ...
Disclaimer: The content and views expressed in the articles are those of the original authors own and are not necessarily the views of Crypto News. We do actively check all our content for accuracy to help protect our readers. This article content and links to external third-parties is included for information and entertainment purposes. It is not financial advice. Please do your own research before participating.