Ethereum On Pace to Settle Over $1 Trillion in Transactions in 2020—Analyst
Tuesday 27 October 2020, 12:01 AM AEST - 7 months ago
The Ethereum blockchain network is on track to settle over $1 trillion worth of transactions in 2020. According to the data from Messari and CoinMetrics, the network settled $989 billion in value year-to-date.
Julien Bouteloup, a decentralized finance (DeFi) security auditor and developer, said:
Ethereum is now the dominant settlement layer in crypto and is on pace to settle over $1 trillion in 2020. ETH took over BTC in no time.
Comparing Ethereum to Bitcoin is difficult because the latter is a store of value and a currency. In contrast, Ethereum is a smart contracts blockchain protocol that processes many types of data alongside transactions.
Still, the data shows the rapid growth rate of Ethereum and the impact of DeFi on smart contract blockchains.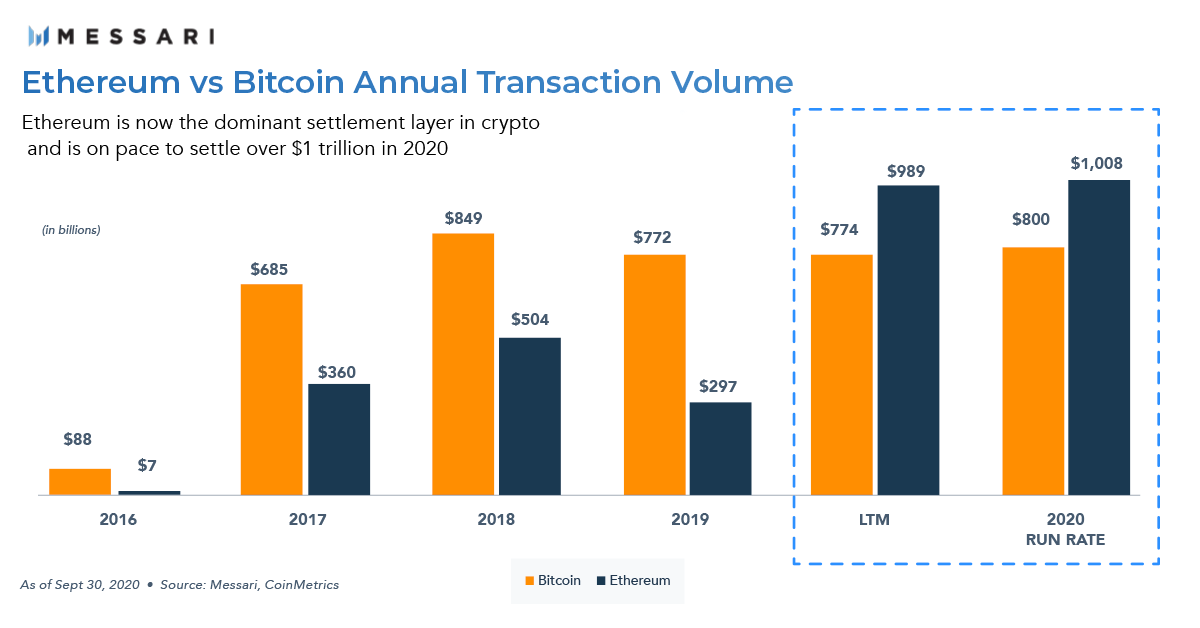 Bitcoin versus Ethereum in value settled. Source:The Large Effect of DeFi on Ethereum is Noticeable
2020 has been the year of DeFi, at least from June to September. Following the launch of Compounds COMP token and Yearn.finances YFI token, the DeFi market exploded.
The rise of governance tokens fueled a new DeFi cycle. Consequently, more users started to use decentralized exchanges like Uniswap, moving onto decentralized applications.
Decentralized applications require users to pay a transaction fee every time a piece of data gets processed. As an example, lets say a user buys 1 ETH using 408 Tether (USDT) on Uniswap. The buy order has to be processed on the Ethereum blockchain network so it is registered as a transaction.
As many people began to use Uniswap and other decentralized exchanges, the demand for Ethereum began to soar. Since the number of daily transactions on the blockchain started to rise, naturally, the value transferred through Ethereum began to rise in tandem.
In the past two months, following the correction of the DeFi market, the Ethereum blockchain has slowed down slightly. Daily active users have declined and the sum of fees spent per day has also slipped.
But, over the longer term, particularly if the DeFi cyc ...
Disclaimer: The content and views expressed in the articles are those of the original authors own and are not necessarily the views of Crypto News. We do actively check all our content for accuracy to help protect our readers. This article content and links to external third-parties is included for information and entertainment purposes. It is not financial advice. Please do your own research before participating.