Dogecoin sinks as Elon Musk calls it a hustle on SNL
Monday 10 May 2021, 5:53 AM AEST - 1 month ago
By Joanna Ossinger
May 10, 2021 — 5.21am
, register or subscribe to save articles for later.
Dogecoin, the fifth most valuable cryptocurrency, retreated from an all-time high after billionaire Elon Musk, appearing on Saturday Night Live jokingly called it a hustle.
The altcoin had surpassed 73 cents on Saturday (US time) before dropping to 46.01 cents the morning after the episode aired, a 35 per cent decline in 24 hours, according to pricing from CoinGecko.
Dogecoin hadnt been below 50 cents since May 4, amid a rally in anticipation of the SNL episode. The activity may also have affected Robinhood, which said earlier that it was having some issues with crypto trading, citing high volume and volatility.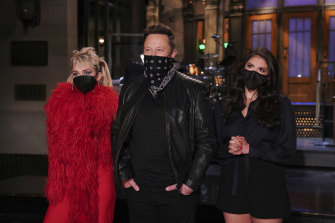 Elon Musk with Miley Cyrus and Cecily Strong during Saturday Night Live promotions earlier in the week. Credit:AP
Musk, who said hes the first person with Aspergers to host the show, was asked repeatedly during the Weekend Update segment to explain what Dogecoin is. After reciting multiple facts about the cryptocurrency in the character of a financial expert, he was asked if Dogecoin was a hustle. He responded, yeah, its a hustle.
Musk, 49, is the worlds second-richest person with a net worth of $US183.9 billion ($234.2 billion), according to the Bloomberg Billionaires Index. He had helped drive the coin to new heights on Friday and Saturday after tweeting a picture of himself and a Shiba Inu, the dog breed that lends its image to the altcoin, on the set of the NBC show.
Dogecoin, a cryptocurrency that started as a joke in 2013, has surged more than 16,000 per cent in the past year, according to CoinGecko. Musk has been among its biggest boosters, along with Mark Cuban, Snoop Dogg and Gene Simmons. Dogecoin traders around the world organised watch parties for the
Read full story on The Sydney Morning Herald
Disclaimer: The content and views expressed in the articles are those of the original authors own and are not necessarily the views of Crypto News. We do actively check all our content for accuracy to help protect our readers. This article content and links to external third-parties is included for information and entertainment purposes. It is not financial advice. Please do your own research before participating.