CoinJar Bundles are improving! New tokens and changes to asset allocations.
Wednesday 21 April 2021, 6:03 PM AEST - 1 month ago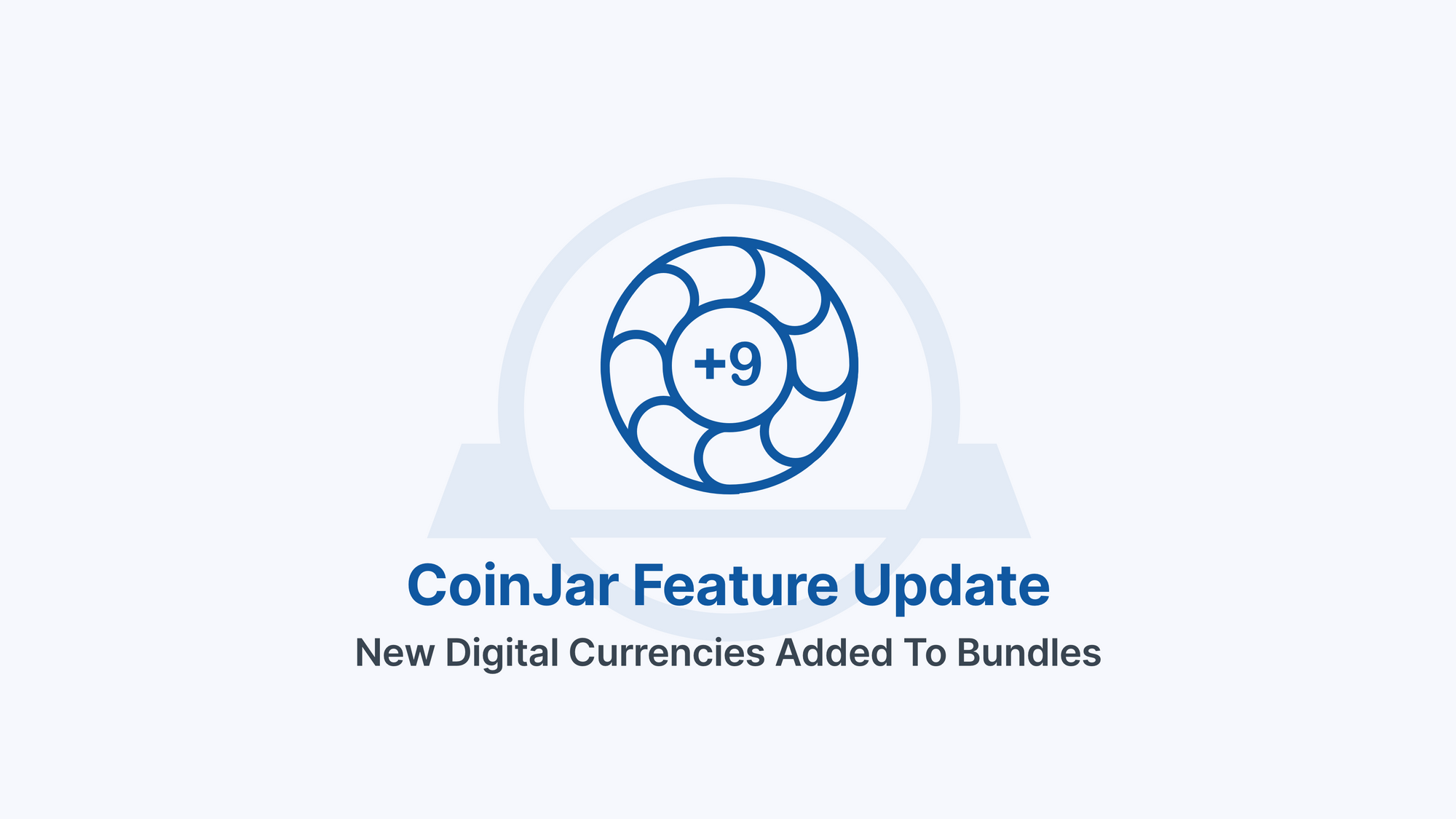 Following the announcement of 9 new cryptocurrencies to the CoinJar lineup, were thrilled to introduce these new cryptos as well as ZRX to CoinJar Bundles. CoinJar Universe, ERC-20, DeFi and CoinJar Stable Bundles are welcoming new crypto additions to the team!
We are also improving CoinJar bundles by changing our cap adjusted allocation methodology to CoinJar Universe, Popular Trio, Ripple & Stellar, DeFi and ERC-20 Bundles.
New tokens and digital assets
The below table delineates the Bundles and their subsequent crypto additions (highlighted in bold):
CoinJar Stable
PAX, USDC, DAI
DeFi
ZRX, AAVE, SNX, BNT, SUSHI, CRV, KNC, COMP, LINK, MKR, UNI, YFI
ERC-20
AAVE, SNX, BNT, SUSHI, CRV, KNC, PAX, BAT, ZRX, USDC, DAI, COMP, LINK, MKR, OMG, UNI, YFI
CoinJar Universe
AAVE, SNX, BNT, SUSHI, CRV, KNC, PAX, ALGO, EOS, BTC, ETH, XRP, LINK, XLM, USDC, UNI, YFI, DAI, MKR, COMP, ZRX, BAT, OMG, LTC
How are our cap adjusted allocations changing?
We now have a systematic way of setting the basket weights for all our cap-weighted CoinJar Bundles. Were using free float market capitalisation for allocating assets, and limiting concentration to the top few assets to ensure a diversified portfolio. This means that, especially for tokens with a high market cap such as bitcoin, weve placed a percentage limit on the proportion of your investment that goes to these high market cap tokens. In turn, your investment will be more diversified across the lower market cap coins within a bundle. Our methodology aligns with common investment practice -- generally speaking, the more varied and diversified your investments are, the more likely it is to yield a higher return.
For cap-adjusted bundles with a high number of cryptocurrencies, the top three performing cryptos by market cap will have a limit of 25%, 15% and 10% respectively, with the remaining bundle investment spread across the r ...
Read full story on Bitcoin & Cryptocurrency Blog - Official CoinJar Blog
Disclaimer: The content and views expressed in the articles are those of the original authors own and are not necessarily the views of Crypto News. We do actively check all our content for accuracy to help protect our readers. This article content and links to external third-parties is included for information and entertainment purposes. It is not financial advice. Please do your own research before participating.