Bitcoin Miner Outflows a Grave Sign for BTC Despite $11,000 Breakout
Thursday 17 September 2020, 12:17 PM AEST - 4 days ago
Bitcoin has seen some intense strength throughout the past several days, with the cryptocurrency marching from lows of $9,900 to highs of over $11,000 that were set today.
This strength is somewhat unique in that BTC is the only major cryptocurrency currently marching higher, as most others are stuck within consolidation phases or downtrends.
Ethereum, for instance, is still trading well below its key $380 resistance level, with each attempt to surmount it resulting in strong selloffs.
The weakness seen by ETH – relative to that seen by the benchmark crypto – has largely come about as the result of the DeFi sectors ongoing downtrend, which has created a headwind for Ethereum.
Although Bitcoin does appear to be benefitting from this ongoing altcoin exodus, analysts are noting that a spike of BTC from miners into exchanges seems to indicate that a selloff could be imminent.
One trader is noting that he expects the benchmark cryptocurrency to extend its recent weakness slightly further before finding enough strength to reverse its downtrend.
Bitcoin Flashes Mixed Signs as Analysts Watch for Reaction to $11,200
At the time of writing, Bitcoin is trading up over 2% at its current price of $11,015, which is around where it has been trading for the past few hours.
This is around where it faces strong resistance, with many analysts setting their sights on a move up towards $11,200 before it rejects and potentially plunges lower.
While speaking about this, one analyst explained that a rejection at this price region would be grim, whereas a break above it could lead to significantly further upside in the days and weeks ahead.
BTC: Still below previous range before the drop and want to see price move back up over $11,200. Will watch for a potential rejection at this level. But closing back above $11ks is what Im looking for next. A breakdown to low $10ks likely leads lower (CME gap $9600s), he said.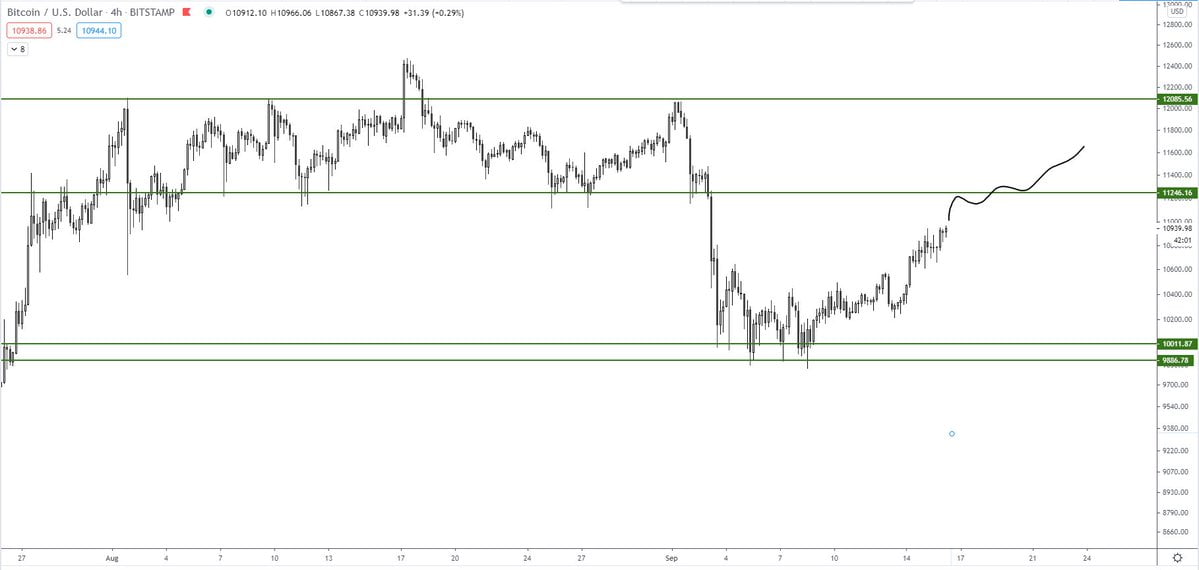 Image Courtesy of Josh Rager. Chart via