Bitcoin Could Surge Past $10,000 as Ethereum Hammers Higher: Top Analyst
Monday 7 June 2020, 7:10 AM AEST - 1 month ago
Bitcoin and the rest of the crypto market have performed extremely well over the past few days, bouncing 10% from last weekends correction lows.
Though one cryptocurrency has been dramatically outperforming all the rest: Ethereum.
The second-largest cryptocurrency and foremost altcoin was up 10% on Saturday, surging higher on the back of an influx of buying pressure. It was a move that allowed Ethereum to break past a crucial resistance.
Although Bitcoin has yet to follow Ethereum higher, analysts say that ETHs strength could drag the rest of the market higher.
Ethereums Strength Could Boost Bitcoin
One prominent trader asserted that ETHs ability to continue to hammer past key resistances is adding fuel to the Bitcoin bull case:
ETH continues to hammer up, dragging BTC past a $10k breakout. That adds fuel to ETH until ETH has gone fully absurd. Thats my favored son scenario.
Bitazu Capital founding partner Mohit Sorout shared this sentiment in his own analysis on the matter. In reference to the chart below, he explained that Ethereum maximalists are waiting for Bitcoin bulls to join the party.
The chart below shows that Bitcoin has yet to break a downtrend formed at the end of April while Ethereum has.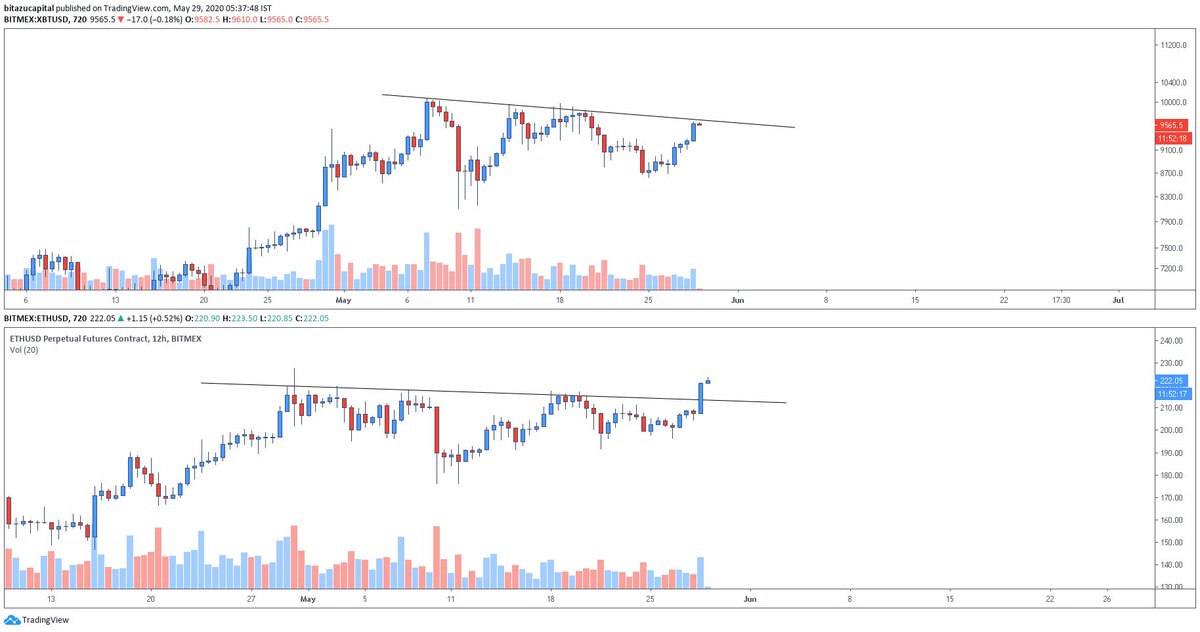 Charts of both ETH and BTC from Mohit Sorout (goes by @SinghSoro on Twitter)
As ETH led BTC higher during February 2020s rally, chances are BTC is about to break past the level indicated in Sorouts chart too. Should this happen,~$10,100 could be within BTCs sights in the coming few days.
BTC Is Bullish Too
Bitcoin, too, is showing technical and fundamental strength.
As reported by Bitcoinist previously, the leading cryptocurrency is on the verge of closing above a key downtrend resistance on a monthly time frame.
Analyst Eric Parabolic Thies pointed out this technical occurrence with the chart below. It shows that BTC is finally peaking above the downtrend formed after the $20,000 high.