Bitcoin at All Time High in Argentina Peso
Bitcoin has surpassed the 2017 all time high in Argentinian money of 340,000 pesos in December 2017 to now above 380,000 pesos on the 31st of May.
Bitcoin fell in Argentinian money for much of 2018, but starting in February 2019, it begun rising very quickly.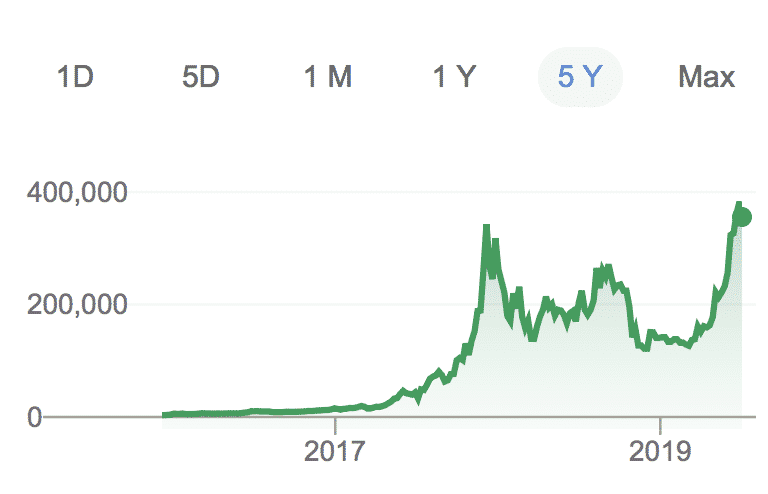 Bitcoin in Argentine peso, June 2019
Inflation has been at 50% a year in Argentina since February, rising to 55% in April, with the country now clearly in severe economic crisis as their economic contraction of 1.2% is at an astonishing 50% in real terms.
There have been suggestions of a currency union with Brazil which apparently have been dismissed, but this galloping inflation and the hyperinflation in Venezuela might lead to a continent wide contagion.
In Colombia, for example, bitcoin volumes reached an all-time high in the peer to peer exchange Localbitcoin.
760 bitcoins, now worth about $6 million, exchanged hands during a one week period in February.
Colombias bitcoin volumes, June 2019
Theres little comparative inflation in Colombia at 3.3% with their economy growing at 2.8%.
These bitcoin volumes may therefore be from neighboring Venezuelans who might now potentially be trading in Colombian money as theirs has no value.
In Peru too, which neighbors Colombia, but not Venezuela, bitcoin volumes reached an all time high of 303 BTC again in February.
Peru bitcoin volumes, June 2019
Peru too has little inflation at 2.3% and it appears to have robust growth, close to 5% in some quarters. So what happened in February?
Well, its not very clear. There was some tension in Venezuela as US tried to get through aid with bitcoin volumes there reaching all time high. There was also Trump complaining oil prices of $65 were too high, theyre now at circa $63.
Meaning these volumes in Colombia and Peru may have more to do with Venezuelans who perhaps are spreading awareness across the region.
While in Argentina they have centralized crypto exchanges and/or brokers with the countrys galloping inflation potentially leading many Argentinians to look into bitcoin and cryptos more generally.
Oncologists Are Freaking Out After Scary Link Between Sex and Cancer Revealed