Bitcoin And Ethereum Lose Ground As Crypto Market Collapses
Saturday 23 January 2021, 12:16 AM AEST - 1 month ago
Cryptocurrency News
The Rest Of The Crypto Sector Follows The BTC and ETH Decline And Records Massive Losses
The crypto sector may be entering a price turnover, as Bitcoin, the dominant cryptocurrency closed January 21s trading with a 13% price loss. The leading cryptocurrency experienced the same sort of behavior in the COVID-19-related market crash in mid-March 2020.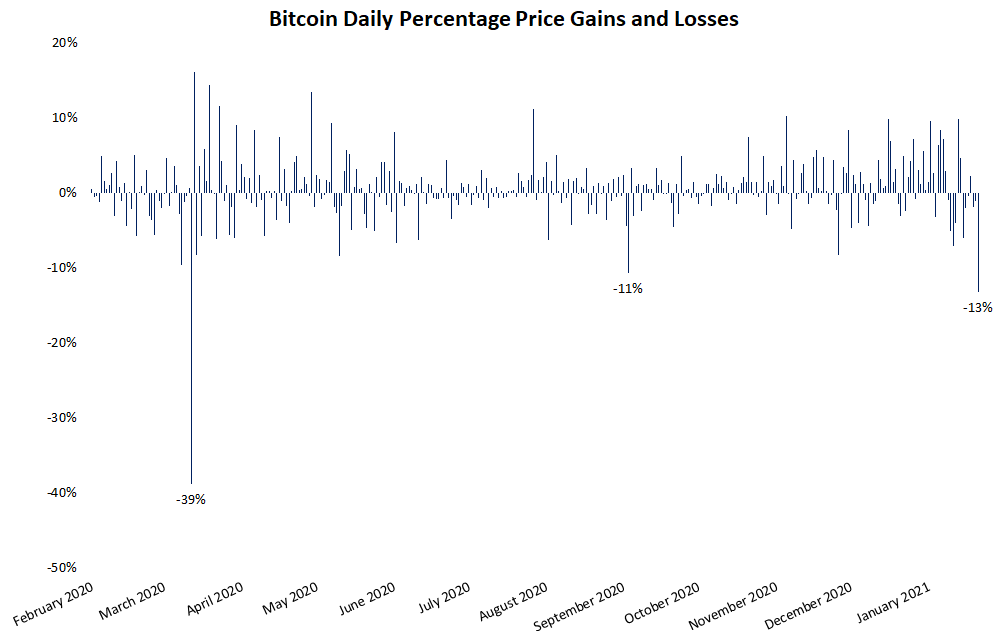 Source: TradingView; CoinDesk
However, many analysts like Techemy Capital trader Josh Olszewicz believe Bitcoins price fluctuation is "probably just a dip" and a long correction is an almost impossible scenario. Olszewiczs opinion is backed by Bloomberg analyst Mike McGlone, who added that Bitcoin is "probing for support and resistance within a mostly $30,000 to $40,000 range for a while until embarking on the next leg of the stair-step rally."
On the other hand, crypto experts like Guggenheim's CIO Scott Minerd consider Bitcoin to be hitting a temporary top, which may lead the worlds biggest cryptocurrency to date to retrace back to around its past all-time high of $20,000.
Bitcoins price drop may be also due to increased selling pressure since the price per BTC hit $42,000 in mid-January. Selling pressure is most evident on U.S.-based crypto exchange Coinbase.
Meanwhile, Bitcoins price fluctuation affected other key market players like Ethereum, for example. The second-largest cryptocurrency made a 20% price decline in just 24 hours, while the crypto sectors market capitalization shrunk to $850 billion.
After reaching a YTD top of $1,432, Ethereum lost ground and tumbled to the $1,050 - $1,100 region. The price slash, however, was market-wide, with many projects suffering from double-digit losses.
For example, Polkadot (DOT) lost 13% of its price, while Cardano (ADA) went past the 20% loss mark with a 22.23% price slippage. Other projects include Ripple (XRP) and ...
Read full story on CryptoBrowser
Disclaimer: The content and views expressed in the articles are those of the original authors own and are not necessarily the views of Crypto News. We do actively check all our content for accuracy to help protect our readers. This article content and links to external third-parties is included for information and entertainment purposes. It is not financial advice. Please do your own research before participating.