Binance Weekly Report: A Happy Thanksgiving to Everyone
In this weekly report: Binance Futures introduced ETH/USDT contracts with up to 50x leverage, plus Binance app updates, new Margin pairs, a crypto-backed travel rewards card, CZs reading list for the holidays, and more!
Last week at Binance:
Binance Futures Updates
1. Binance Futures Launches ETH/USDT Perpetual Contracts. Binance Futures traders can trade $ETH with adjustable leverage between 1 and 50 on desktop and mobile web, with Android and iOS support available very soon. Read more: Binance Futures Trading Platform Launches ETH/USDT Contracts with 50x Max Leverage.
2. Binance Futures API Update. Refer to Binance API Documentation for more details.
GET /fapi/v1/account has new field: positions

Added new field time for order creation time in:

GET /fapi/v1/openOrders

GET /fapi/v1/order

GET /fapi/v1/allOrders

New endpoint GET /fapi/v1/allForceOrders to get all liquidation orders.

New websocket streams:

@forceOrderfor liquidation order streams

[email protected] for all market liquidation order streams
3. Binance Futures Feature Update
Stop-loss limit orders and take-profit limit orders have been consolidated to "Stop Limit".

Stop-loss market orders and take-profit market orders have been consolidated to "Stop Market".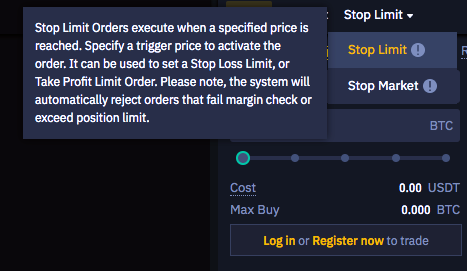 4. Share Binance Futures ETH position. We're giving away $500 in $BNB! To participate, visit Binance Twitter
Binance Margin Trading Updates
Binance.com Trading Updates
7. Binance iOS App Update. Download the latest iOS App here.
OCO orders are now supported

Multi-network deposits & withdrawals

Network optimizations
If a user withdraws assets from their Binance account to an existing Binance deposit address, this will be recognized as an internal transfer and will be processed without the need for any block confirmations and also have zero transfer fees.
9. Binance Completes XMR Scheduled Protocol Upgrade and Opens Deposits & Withdrawals.