Are stablecoin in-flows determining Bitcoins movement?
Friday 15 January 2021, 2:48 AM AEST - 1 week ago
Over the past few weeks, the rise of Bitcoin in the charts has overshadowed other developments in the industry. Between 26th November to press time, Bitcoin has grown by 123%. The particular importance of that timeline will be narrated later on as we move on to the topic of stablecoins.
According to Coinmetrics, stablecoins have been on the rise over the past couple of months and over the last week, the supply has intensified further. It has been a collective increase as USDC, TUSD has all been on the rise with USDC adding close to $500 since the start of January 2021.
Source: Coinmetrics
Additionally, Tethers share of supply has also started to decrease as at press time, Tether owns the least share since January 2019, being down to around 75%. However, when it comes to impact, stablecoins might be making a huge one.
Stablecoins flowing into exchanges a catalyst?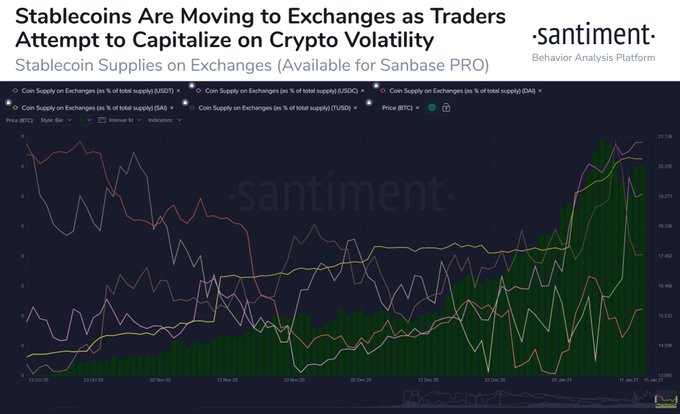 Source: Twitter
Recent development tracked by Santiment suggested that the number of stablecoins moving back into the exchange is continuously rising with USDC, TUSD, and SAI having reflected Bitcoins rise with their movement. The current significance of such a development is that stablecoins might be impacting BTCs present rally after the market drop.
Coming back to the timeline, Bitcoins value from 26th November ...
Disclaimer: The content and views expressed in the articles are those of the original authors own and are not necessarily the views of Crypto News. We do actively check all our content for accuracy to help protect our readers. This article content and links to external third-parties is included for information and entertainment purposes. It is not financial advice. Please do your own research before participating.