An Accurate Bitcoin Analyst Expects a Large Correction in Altcoins
Monday 8 July 2020, 8:50 AM AEST - 1 month ago
This may sound like a broken record but its been a strong year thus far for altcoins compared to Bitcoin. Just look at the chart below, which shows that since the start of the year, BTC has underperformed many altcoins.
BTC vs. altcoins Tron, Ethereum, Cardano, and Crypto.com since the start of 2020. Chart from TradingView.com
Yet an analyst is expecting a strong correction in the altcoin market over the coming months, echoing the sentiment of many commentators.
Altcoins May Plunge Against Bitcoin, Analyst Warns
According to the trader that accurately predicted that Bitcoin would bottom 2019s bear trend at $6,400, altcoins could see a large correction.
He shared the chart below on July 4th, showing that Bitcoin dominance — the percentage of the crypto market made up of BTC — could hit 76% in 2020. That would result in a massive correction in the altcoin industry, with most likely falling by ~30% or more.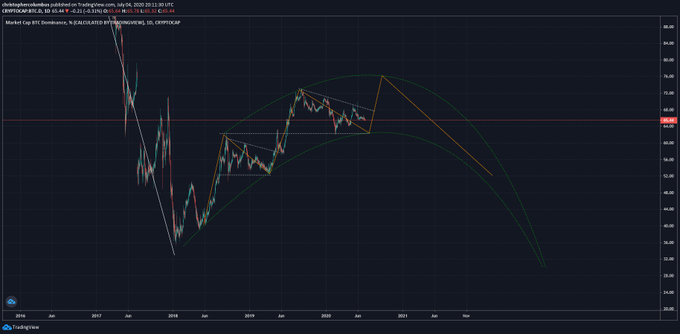 Bitcoin dominance chart and analysis shared by trader Dave the Wave (@davthewave on Twitter). Chart from TradingView.com
The analyst who shared the chart above isnt the only current bear on altcoins. Jason Calacanis, a prominent angel investor well known for investing in Uber, Robinhood, and Trello. He said late last month:
Historically, 99% of crypto projects are garbage run by unqualified idiots, delusional but below average founders or grifters… the 1% that are not, could change the world. Im waiting for that 1% to deliver their product so I can talk to their customers. you got customers?
Prominent Crypto Fund Begs to Differ
Despite the sentiment against altcoins as investments, a prominent industry fund is still optimistic about digital assets aside from Bitcoin.
Pantera Capital, one of the earliest blockchain-centric funds and the earliest in the U.S.,