In this article we will review three altcoins that are showing signs of a bullish continuation according to the technical analysis and will add some updates of their projects.
Cryptocurrencies salute the spring with their recovery from the February sharp fall. There are many technical and fundamental signs of the upcoming new bullish cycle for the crypto-market, including CME Bitcoin ETF, Grayscale broadening their product offering by adding other cryptocurrencies, FD7 to sell $750 worth of Bitcoin to purchase ADA and DOT.
Stellar Lumens
Stellar announced today their launch of Horizon 2.0. Horizon is the Stellar networks API which connects apps to the Stellar Core. Horizon is used to display various calls on an app such as submit transactions, query the account balance, stream account balance to the app etc. What the version 2 of the Horizon adds up is that an app doesnt need to deploy the Stellar Core, which requires a heavy disk space, in Horizon 2 you will have 2 options to choose from which implies to your use case. With this update rolled out, Stellar will attract smaller app developers, wallet developers and DEXes which heavily rely on speed and possibly do not require the full power of Stellar Core decreasing the required disk space by hundreds of gigabytes.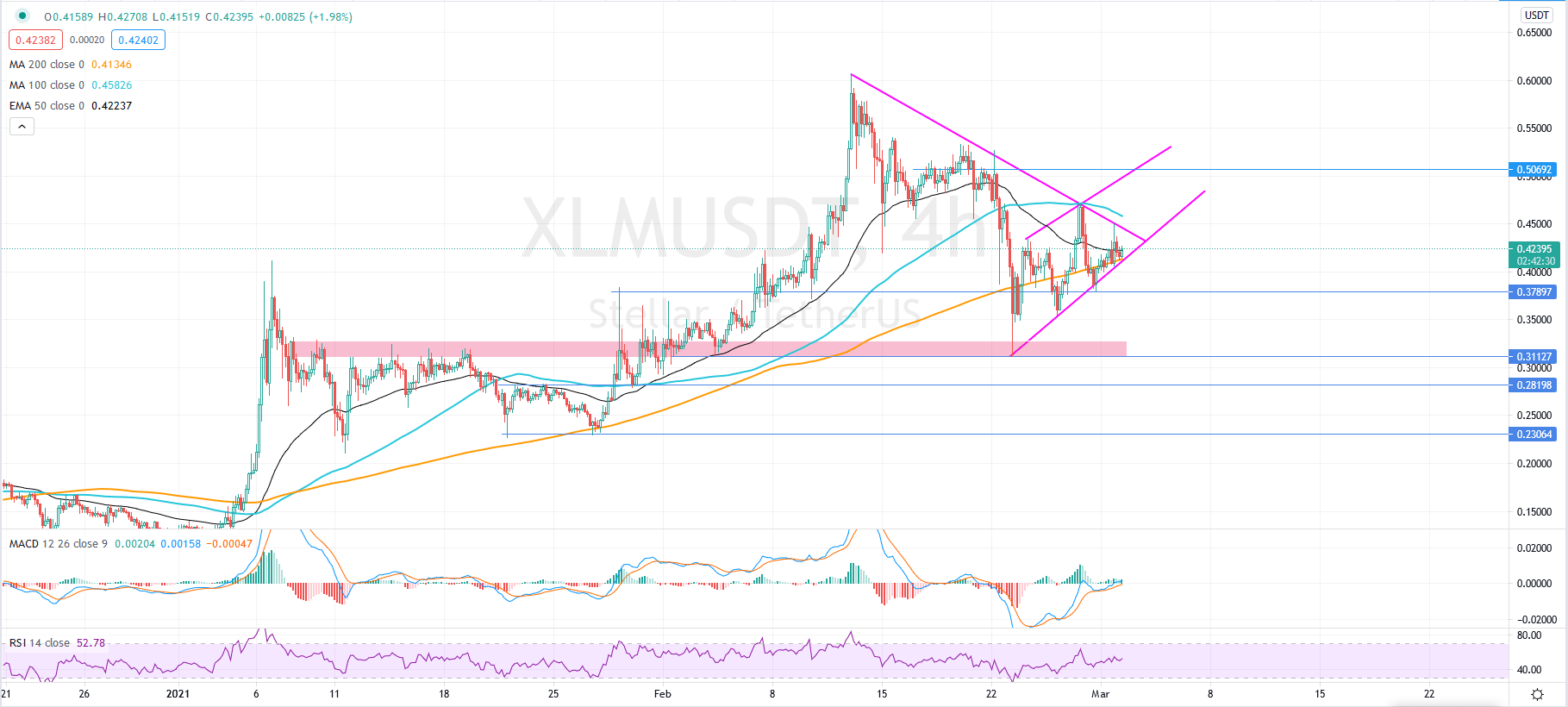 Photo: TradingView
XLMUSD on February 23 tested the previous manifold resistance area at $1.31127. Currently the price is still locked in a triangle. As the price is near the dynamic support, it might drop to test $0.38 to regain power and continue uptrend, however if XLMUSD closes above the dynamic resistance (upper edge of the triangle), it will jump to $0.50600 resistance. The price move from the February 23 doesnt include an impulse and a test to break the dynamic resistance of March 1 was unsuccessful, the price retraced forming a long upper wick on a candle. Watch closely for the breakout of each side before making an investment decision.
0x
Zero X project updated their swap API to support their new v4 of the 0x Protocol. The project claims that the v4 is the most gas-efficient DEX protocol. Gas was and is Ethereums the second most discussed topic as transactions within the network increase so does the gas price. See the announcements of 0x on their new API below to find out how this update can facilitate traders, the most interesting point is ...
Read full story on Coinspeaker
Disclaimer: The content and views expressed in the articles are those of the original authors own and are not necessarily the views of Crypto News. We do actively check all our content for accuracy to help protect our readers. This article content and links to external third-parties is included for information and entertainment purposes. It is not financial advice. Please do your own research before participating.