Aave, Curve, EOS, Sushiswap, Synthetix & 4 other new digital currencies are now available for trading on CoinJar!
Thursday 01 April 2021, 4:02 PM AEST - 2 months ago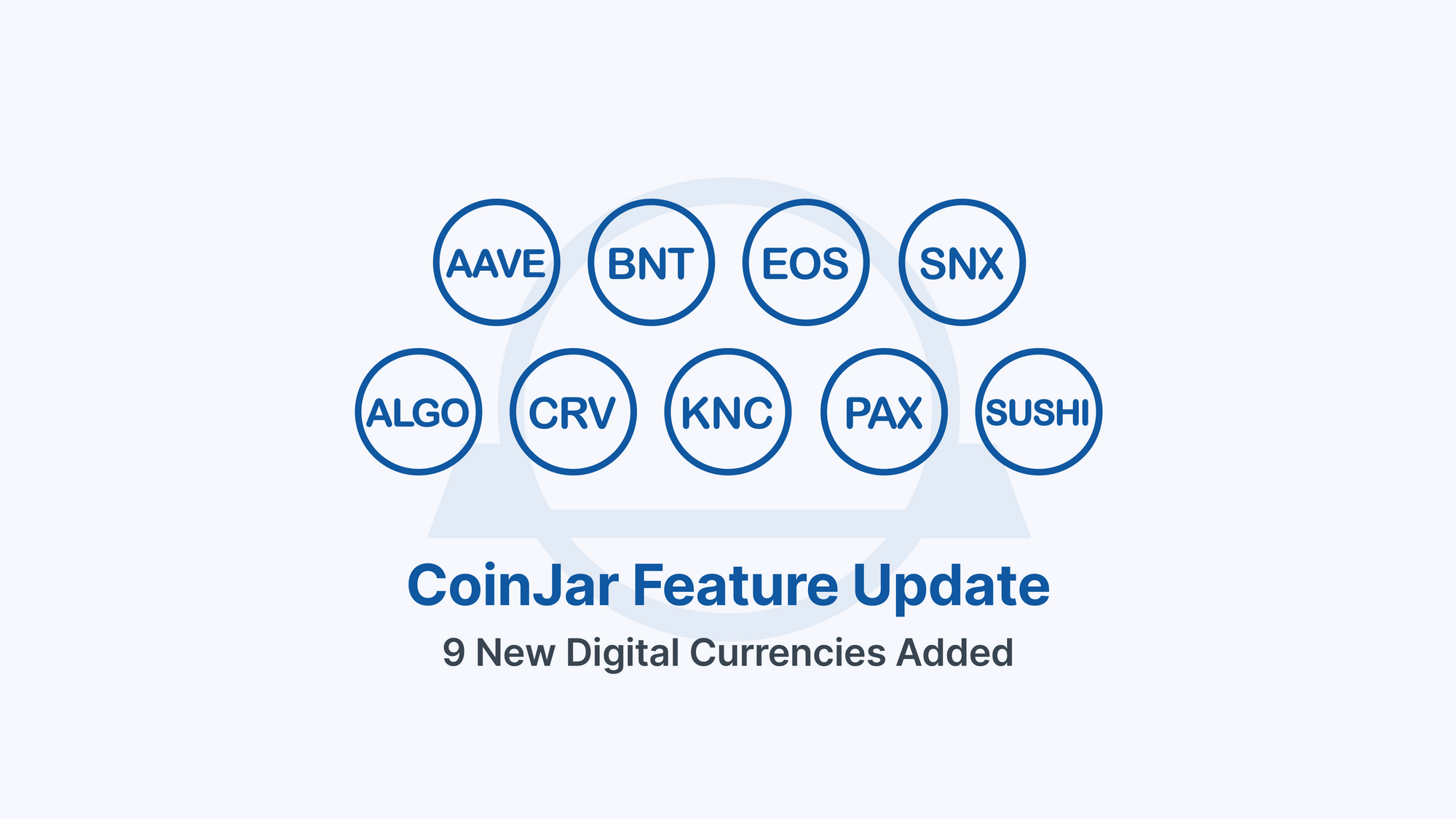 Were thrilled to welcome 9 new tokens and digital currencies to the CoinJar lineup -- the most weve ever introduced in a new update:
Aave
Algorand
Bancor Network Token
Curve DAO
EOS
Kyber Network
Paxos Standard
Synthetix Network Token
SushiSwap

From today, these will be available to buy and sell through the CoinJar platform and complement our ever-growing lineup of digital currencies and tokens that members can send, receive and store using CoinJar.
Please ensure that you have updated your iOS or Android app before you buy or transfer the new tokens. Especially as one of our new cryptocurrencies, EOS, requires a memo ID for receiving funds that will only be available after you update the app. If you fail to update your app prior to transacting EOS, the funds you sent may be lost.
These digital currencies will not be available for purchase through CoinJar Bundles or on CoinJar Exchange at launch and will be added at a future date.
Algorand
ALGO is the native token of Algorand. Algorand is a permissionless and decentralised public blockchain with low transaction fees. The Algorand project is unique as it aims to solve the Blockchain Trilemma -- in other words, the balance between security, scalability and decentralisation.
EOS
EOS is the governance token of EOSIO. EOS is a decentralised blockchain that processes fast and free transactions, with the infrastructure allowing for smart contracts to be built on top of the blockchain and enabling developers to release dApps -- similar to Ethereum. EOS utilises the delegated proof of stake consensus model for a more efficient system and fast transaction speeds.
Paxos Standard
PAX is an ERC-20 stablecoin built on the Ethereum blockchain. Paxos Standard is unique as the digital currency is tied to the US Dollar with a 1:1 collateral, issued by the Paxos Trust Company and regulated by the New York State Department of Financial Services. As a digital dollar, Paxos Standard minimises risk while capitalising on frictionless and instantaneous blockchain technology.
Aave
AAVE is the ERC-20 gover ...
Read full story on Bitcoin & Cryptocurrency Blog - Official CoinJar Blog
Disclaimer: The content and views expressed in the articles are those of the original authors own and are not necessarily the views of Crypto News. We do actively check all our content for accuracy to help protect our readers. This article content and links to external third-parties is included for information and entertainment purposes. It is not financial advice. Please do your own research before participating.